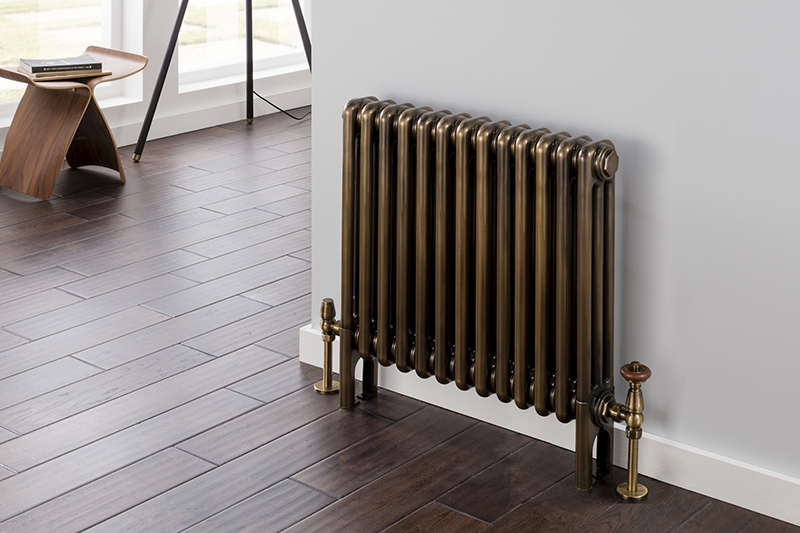 Alex Burgess, National Sales Manager at The Radiator Company, looks at the factors to consider when specifying designer radiators and how to improve customer satisfaction by offering a complete package.
For any installer, adding value to customers' experience should be a top priority – which is why it is so important to speak openly with the customer about how they can effectively achieve the results they're after. It is not uncommon for installers to find themselves on a project where client expectations and reality do not match, so it is important to always look at the full picture to find a solution that meets all requirements and satisfies the customer.
Taking the customer on the journey and explaining why you are making each specification decision will result in a better experience for everyone. It is unlikely that your client will be aware of the importance of correctly calculating the heat output for the size of the space and ensuring radiators are certified but these are critical factors in ensuring the radiator can perform as expected. Taking the time to go through this, as well as how smaller details like choosing quality valves can bring their vision to life, will increase customer trust and help to boost repeat business and positive word of mouth – and it offers a fantastic opportunity to upsell and increase profit margins.
Heat output
The first consideration should always be whether the models can sufficiently heat the space by calculating the required British Thermal Units (BTUs). To determine this, leading manufacturers have useful online calculators that can be used to estimate what level of heat output the room requires. Simply inputting a few details will provide a guide to the BTU/hr and Watt requirements based on the EN442 standard of Delta T50. This not only reassures the customer that the radiator will perform as expected but will also ascertain the radiator models that can achieve this figure.
For further quality assurance, look for manufacturers that can provide a Declaration of Performance (DoP) on request, as well as those that are affiliated with industry bodies such as MARC (the Manufacturers' Association of Radiators and Convectors).
Material choice
Another key consideration is the material that the radiator is manufactured from, as the performance characteristics of each material can influence the size of the radiator required to deliver the desired heat output.
Most radiators are constructed from steel as the material is easier to shape into the distinctive shapes and sizes, that meet the design demands of today's customer. Mild steel tends to be a more cost-effective option (in comparison to alternatives like cast iron), making it popular for more cost-conscious customers. In comparison, stainless steel is slightly more expensive, but it conducts heat well and is more durable and rust resistant, reducing ongoing maintenance costs to the customer.
For older, less insulated properties cast iron radiators are ideal, as they retain heat well and take longer to cool down. The aesthetic of cast iron is ever appealing, however, as this material can be much heavier than alternatives like aluminium, it is important to check that the walls and floor can carry their weight. It is all too common for tradespeople to be asked to install a cast iron radiator that the customer has sourced themselves, only to find the unit is far too heavy, or completely inefficient for the space. The traditional look of cast iron can be achieved with other materials like steel and aluminium, making these models a more suitable option.
Finally, aluminium radiators are extremely lightweight, making them suitable for a large number of projects. Aluminium is a superconductor, which means it responds to thermostatic changes very quickly, so radiators can heat up a room faster than any of the other materials and also cool down faster, making them very efficient and easy to control.
Pipework
When selecting radiators, the focus should always be on finding a model that can heat the space sufficiently, rather than finding a model that will fit to the existing pipework. Many customers will be unaware that, in some cases, the existing pipework can be easily adjusted to fit a new radiator – so the need for time-consuming and costly work to move the pipework is not needed.
Specifying valves
To adhere to the building regulations, thermostatic radiator valves (TRV) should be installed. TRVs work by automatically adjusting the flow of water into the radiator and stopping the radiator from heating the space further once the desired temperature is reached. This improves energy efficiency considerably and also helps to reduce fuel bills for the customer.
It might seem like an insignificant detail, but these are a vital aspect of the heating system, so choosing the right, high quality valves will not only improve the overall aesthetic but also ensure that the radiator continues to perform at optimum efficiency. Specifying high-quality valves also offers an opportunity for the installer to increase margins.
There are a number of factors to consider when specifying designer radiators and offering customers the complete package, speaking openly, and engaging with them early on can really benefit the installer – especially when it comes to steering the customer towards high quality, designer models and generating repeat (and new) business.