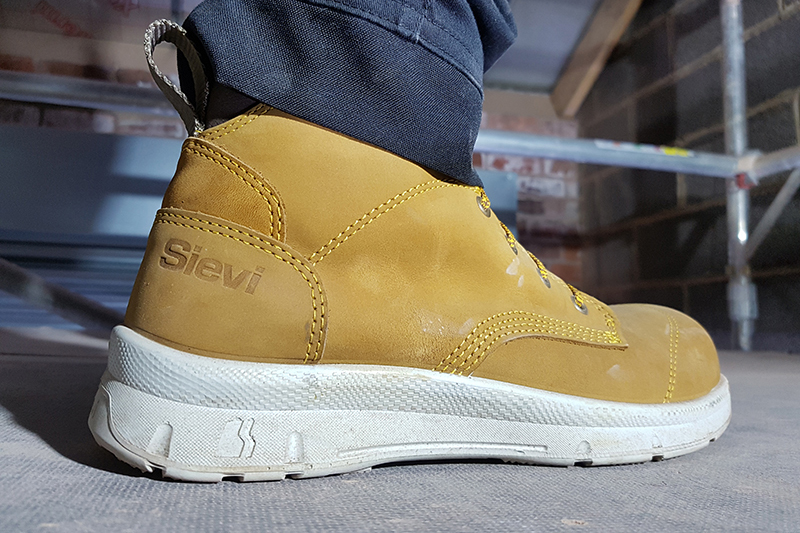 Tibby Singh Chodha steps out in style in his new Sievi Terrain High S3 Boots.
When it comes to work boots I can be really fussy on what shoes I choose to wear on site. Comfort is king, and if something doesn't feel right it gets the boot. Upon unboxing a delivery from Sievi my first thought was that they had sent me the wrong shoes, because they looked far too smart to get dirty. Looks are always a bonus, but what's on the inside is what really counts, so I was excited to see if they walked the walk.
I first slipped into them whilst at home and found myself walking around the house like they were slippers. In fact, I can honestly say there wasn't much weight difference between my slippers and these. I was so surprised I even had to double check to make sure they had something to protect the toes, and ensure they really were safety boots. The explanation came in the form of an aluminium toecap, which makes them 50 per cent lighter than traditional steel toecaps. Steel has also been used, but in the midsole to prevent sharp objects from penetrating through the sole.
The sole itself is made of the manufacturer's FlexStep material, which offers high slip-resistance, flexibility and incredible shock absorption, not only to the sole but in the heel area as well. I was so intrigued that I had to remove the insole to see the technology for myself. Sievi have put their heart into the sole of these boots as I've never seen so much attention to detail in the design. They really do protect your skeletal system against stress, and have even gone a step further, with the integration of a FlexEnergy component, which is incorporated into the entire heel part of the shoe. Made from BASF's TPU Infinergy, which is the first expanding thermoplastic polyurethane in the world, the material is very elastic, and provides a rebound effect, which means you'll have more than just a spring in your step.
The sole is resistant to oil, and many chemicals, whilst the upper material is water repellent. In addition, 3D-Dry technology transfers moisture out, keeping your feet dry and minimising the chances of developing the likes of Athlete's Foot. Finally, I almost forgot to mention the memory foam ankle protection, which takes the shape of your foot and supports the ankle from shocks.
These Sievi Terrain High S3 boots are everything that I could ask for. They are actually smarter than some of my going out shoes and comfier than some of my trainers.
These boots were made for working.