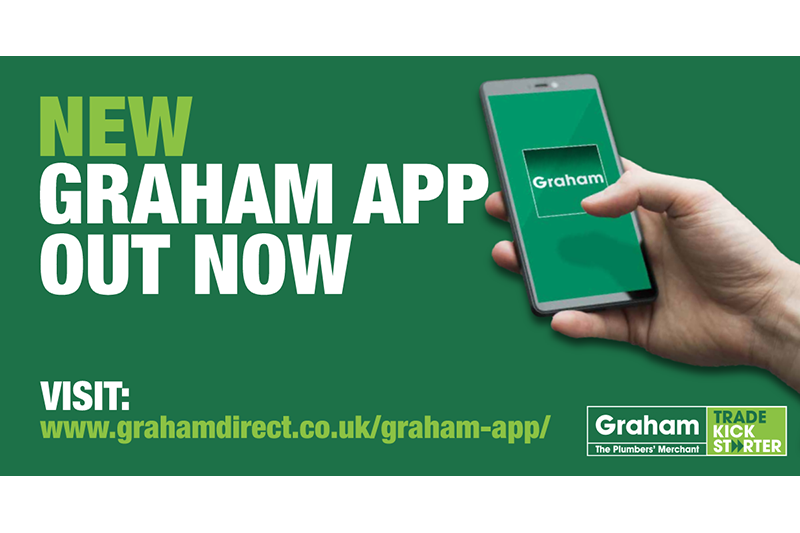 Graham Plumbers' Merchant has launched its new Graham App, designed to provide easy access to its product catalogue. Crucially for small heating and plumbing businesses, the Graham App also simplifies the digital record keeping of all jobs and invoicing in line with the government's Making Tax Digital (MTD) initiative.
Created with Powered Now, the Graham App allows tradespeople to keep all of their documents in one easily accessible place. The app tracks active customers, jobs and quotes as well as storing all important records from past activity. In the app, users can also create templates for forms and certificates that can be easily modified to save a significant amount of time on paperwork per job.
In addition, users are also able to easily browse Graham's product catalogue from which, they can add individual items and product details directly to a quote, purchase order or invoice. Furthermore, when purchase orders are created by users, they are sent directly to Graham for processing.
The application is available offline in order to allow users to access their documents even without internet access. Available in both a mobile and web accessible version, users are required to have an open Graham trading account to access the app.
Ian Kenny, Marketing Director at Graham Plumbers' Merchant, commented: "With the introduction of the government's MTD initiative, which launched in April of last year, businesses are required to keep digital records of all jobs and invoicing as well as generate their tax returns directly from these records. With the Graham App, our customers can do so quickly and easily as well as allowing them to easily browse our product catalogue as well. With the Graham App you have everything you could need all in one place."
Visit www.grahamplumbersapp.com to log in or to download the mobile version.