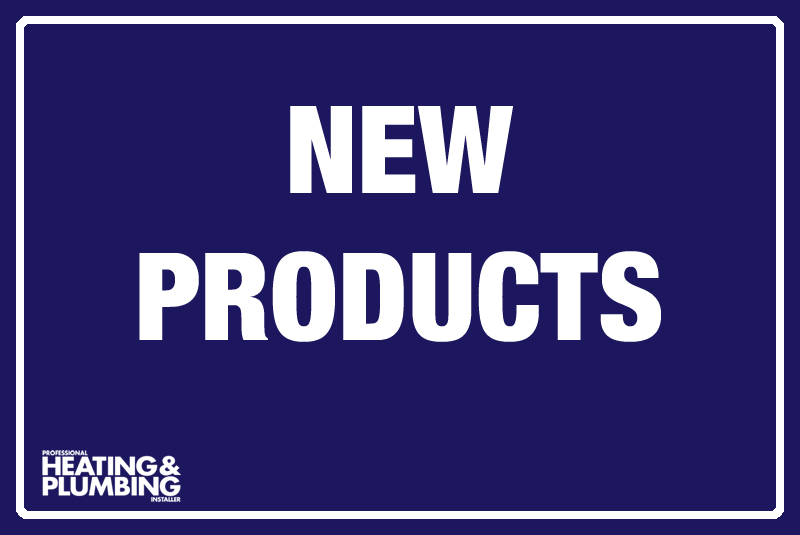 Bosch Professional
Rotary hammer
Bosch Professional is extending its 18-volt product range and is launching the GBH 18V-26 D Professional – the powerful cordless rotary hammer with D-handle, offering KickBack control for improved user protection. The tool has an impact energy of 2.5 joules with a high impact rate of 4,350 beats per minute.
The brushless motor of this cordless rotary hammer contributes to the efficiency of the tool. When combined with a 5.0 Ah battery, the GBH 18V-26 D Professional can drill around 110 holes (8 by 40mm) in concrete. For particularly demanding drilling and chiselling applications, tradespeople can use the high-performance ProCORE18V battery.
www.bosch-professional.com/gb/en/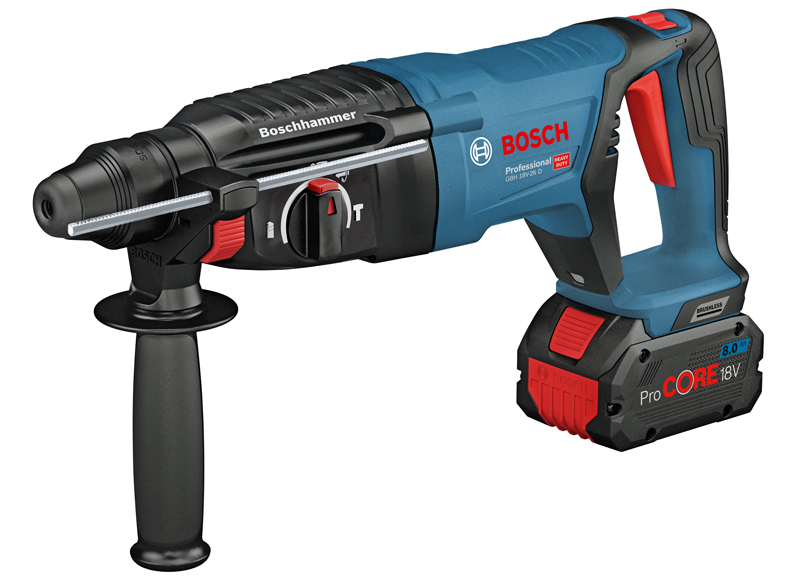 Velocity Progear
Rogue 5.0 Backpack
Launching its range of tool storage solutions back in 2016 with its Raptor tool bag range, Velocity Progear has now extended its offering to include the premium Rogue tool bags range. In addition, off the back of the success of the Rogue 6.0 Tech case XL, Velocity has released the Rogue 5.0 Backpack.
The Rogue 5.0 Backpack's front and rear compartments have been designed for vertical tool storage for install-service applications. Rogue 5.0 incorporates high-performance fabrics, magnetic buckle systems along with YKK interlocking zips. The company has also announced it will launch three further Rogue models on 19-20th September at the Toolfair Exhibition 2019, Ricoh Arena, Coventry.
www.velocity-progear.com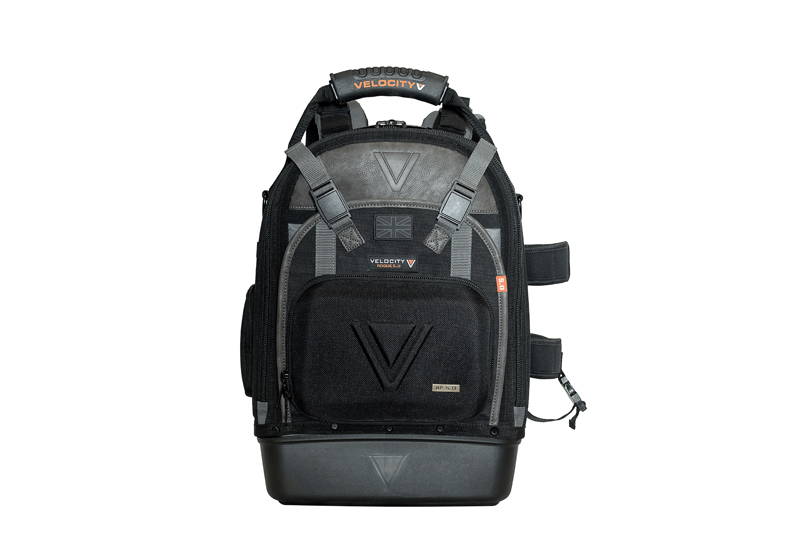 Conex Bänninger
>B< MaxiPro
As demand for the flame-free ACR press system reportedly continues to grow, Conex Bänninger has extended its >B< MaxiPro product range. The new fittings include three types of long coupler, copper flare joints available with brass and stainless steel nuts, a range of copper flare washers in different sizes, and a suction line P-trap. A 100ml bottle of press fitting lubricant has also been added.
The >B< MaxiPro was developed specifically for use in air conditioning and refrigeration applications. It is designed to be used up to a maximum operating pressure of 48 bar, with a maximum operating temperature range of -40 to 121°C. It has the benefit of a 3-point press, with one press each side of the bead and one compressing the O-ring, providing a permanent, leak-free joint.
www.conexbanninger.com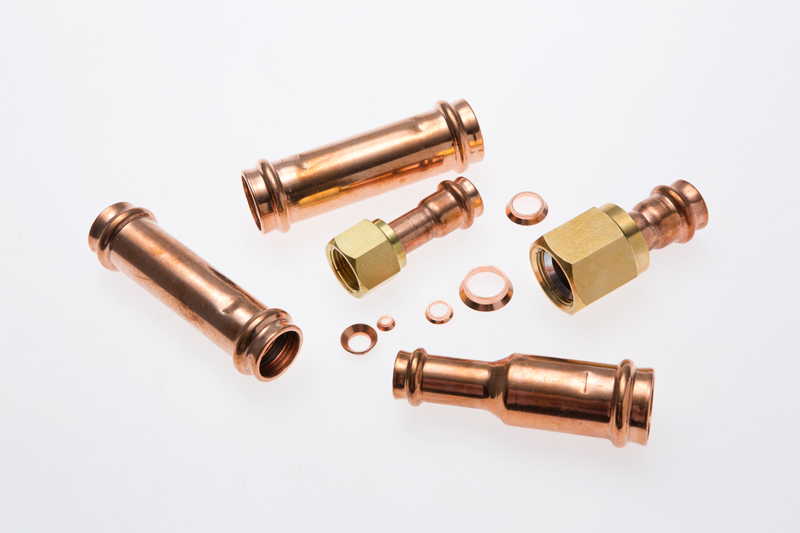 Dickies
2019-20 catalogue
Featuring a new layout plus 17 new products, Dickies has unveiled its 2019-20 catalogue. The catalogue is over 300 pages long – the largest ever published by Dickies – and the new design aims to make it simple for tradespeople to use. For example, footwear products are split according to safety classifications, while other sections include hi-vis, trousers and shorts, and tops and outerwear, for quick reference.
New products include the Dickies GDT Premium Shorts, which are said to be lightweight and easy to coordinate with other items within the GDT Premium range and feature a Cordura pocket, plus wide belt loops and hip pockets.
www.dickiesworkwear.com/uk/info/catalogue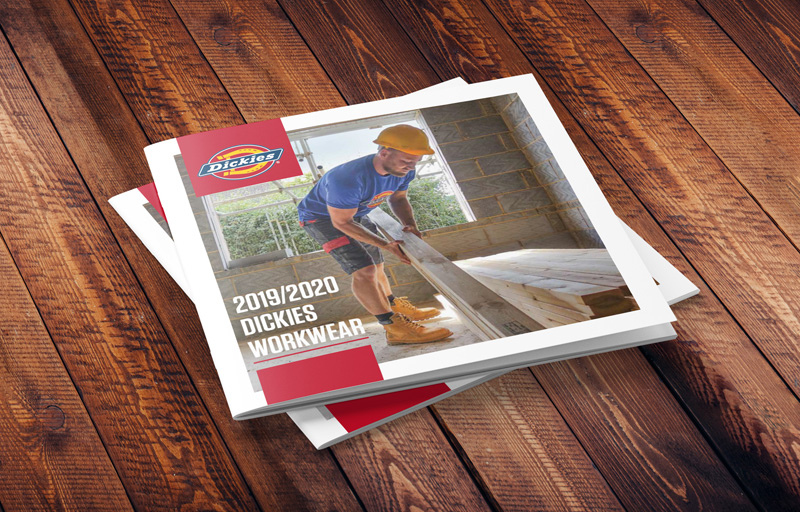 Hultafors Group
Hellberg Safety
Featuring in its brand portfolio for professional tradesmen and women, the Hultafors Group has added Hellberg Safety PPE products. With over 50 years' experience in the PPE industry, the Hellberg Safety specialist equipment includes hearing protection products, face protection and communication solutions for personal protection on site.
From face guards, helmets and passive hearing protection with up to three levels of protection from low to extreme noise, Hellberg also supplies secure electronic hearing protectors to suit different work environments.
www.hellbergsafety.com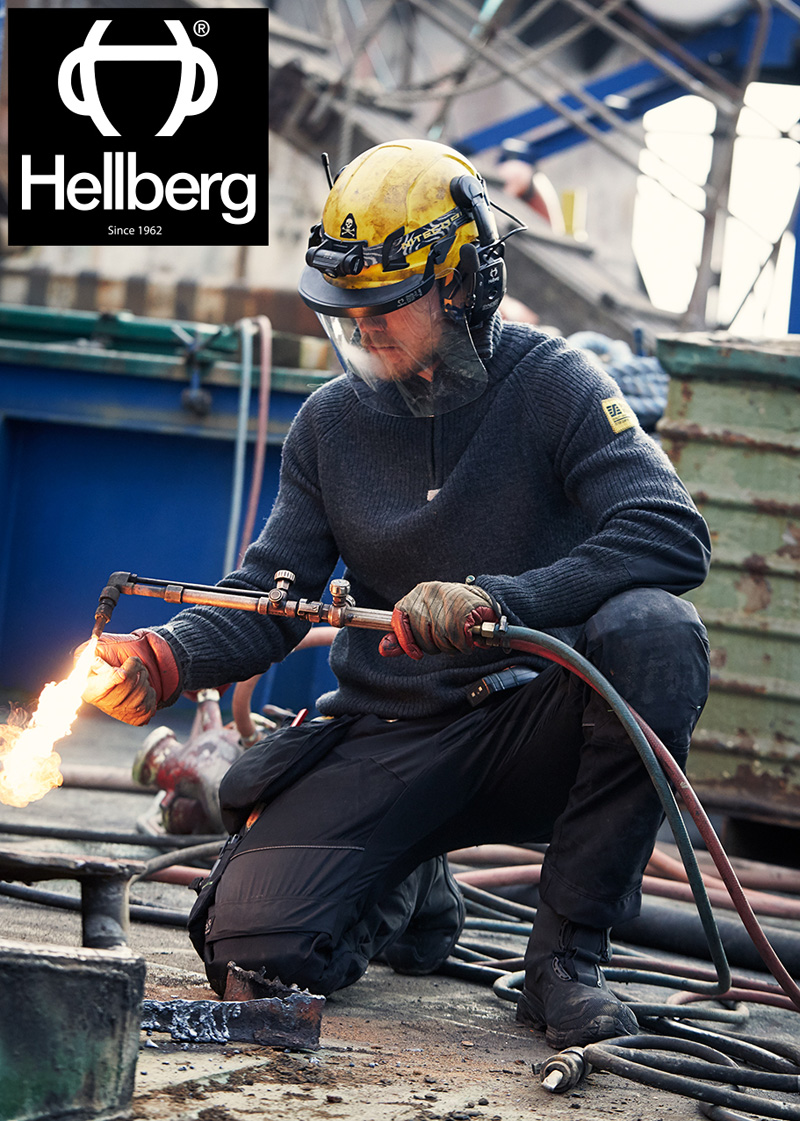 Maincor
Mechanical Fittings
Installers opting for connection fittings from Maincor can now take advantage of its mechanical fittings, which are said to reduce installation times. Made from brass, Maincor compression fittings for joining Flextra Pipe and making building connections feature two bolts; one for opening the fitting, and one for tightening it on to the pipe.
Reportedly minimising the potential for human error and reducing fitting times, Maincor connectors from 32mm and above are made with a clamping sleeve. Creating huge pressure to the joint, this solution is said to make it impossible for the pipe to slide out of the connector.
www.maincor.co.uk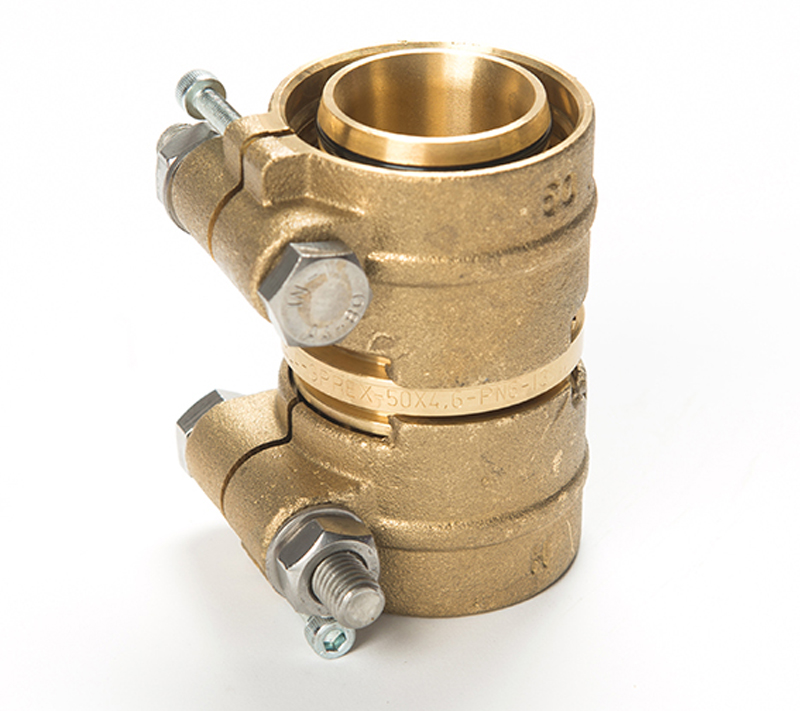 DASSY
D-FLEX
The D-FLEX collection from DASSY professional workwear features 11 new items and reportedly offers durable garments that provide optimal freedom of movement. Thanks to its main fabric with mechanical stretch, the 4-way stretch inserts in strategic areas and the Cordura Stretch at the knee, ensure the DASSY D-FLEX work trousers stretch and flex exactly where professionals need extra elasticity.
To reinforce the stretch zones, the company has also used Cordura Stretch fabric at the knee pockets and in the stretch inserts as well. The new topwear items, such as the T-shirt and polo, also feature high performance fabrics meaning they are antibacterial, quick drying and offer UV sun protection.
www.dassy.eu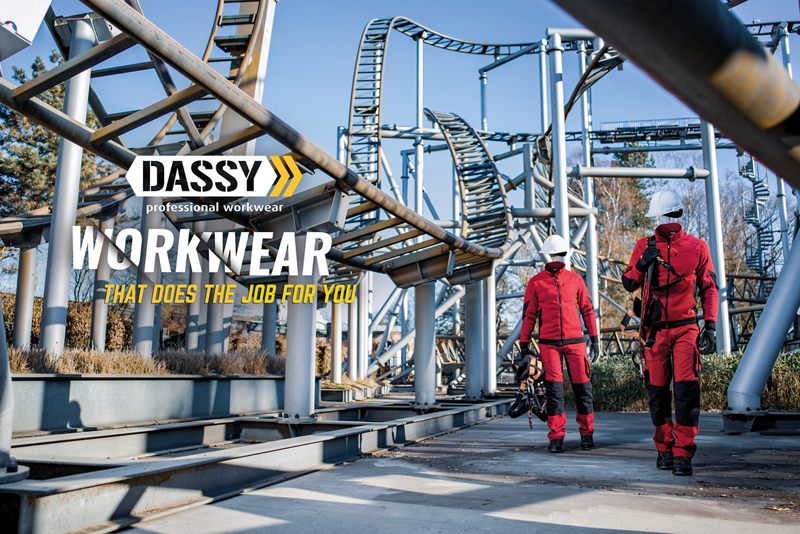 Viega
Easytop ball valves
Designed for thick-walled steel tube systems, Viega has extended its Megapress range further with new Easytop ball valves. The valves are available in ½ to 2inch sizes and with both a standard EPDM sealing element and a Megapress S version with an FKM sealing element suitable for higher temperature applications up to 140°C.
The range of Viega Easytop system fittings includes products for use on copper stainless-steel and plastic (multilayer) systems in a range of pipe sizes, including XL dimensions. The product portfolio also features adapters suitable for threaded and soldered connections.
www.viega.co.uk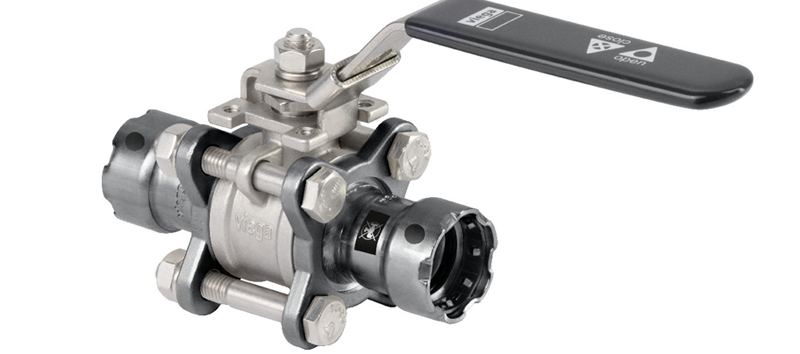 Snickers
Workwear catalogue
Including the latest designs and fabric technology, Snickers Workwear has introduced its 200-page catalogue. The catalogue showcases the company's range including; the AllroundWork, RUFFWork, LITEWork and FLEXIWork clothing, featuring trousers, jackets, tool vests, shirts, accessories and more – plus a range of EN-certified PPE working clothes.
Snickers' range also features street-smart stretch fabrics for mobile comfort and a Layered Clothing System that ensures the wearer can choose clothes to suit the weather on site. This is also complemented by Snickers' Profiling and Embroidery services.
www.snickersworkwear.co.uk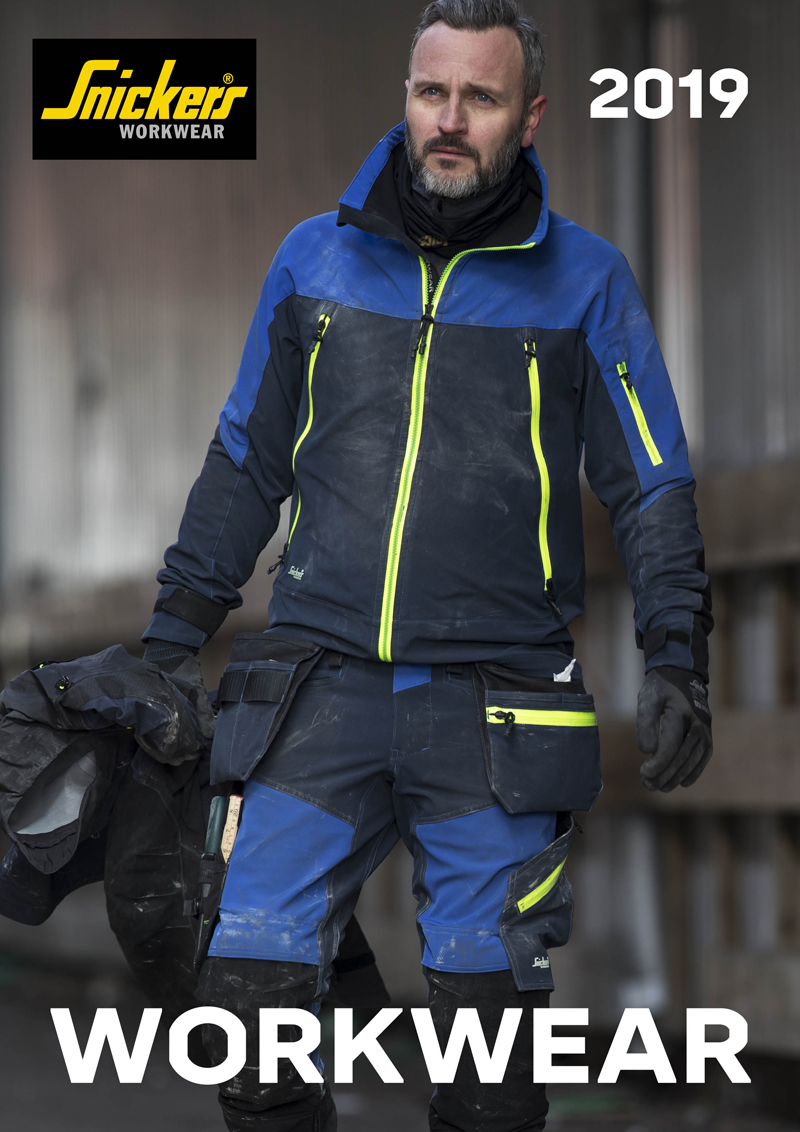 Titon
CME3 Q Plus
Developed to meet the requirements of System 3 in accordance with Part F of the Building Regulations, Titon has added the CME3 Q Plus to its range of continuous mechanical extract units. Its compact profile allows it to be fitted in airing cupboards, storage cupboards or loft spaces and its round circular ports makes it ideal for refurbishment or replacement.
Suitable for use in dwellings with up to six wet rooms, the low noise unit has a large duty range of over 120 l/s (400m3/hr) at reasonable static pressure (100 Pa). Compatible with both 100 and 125mm diameter ducting, the CME3 Q Plus also utilises an electronically commutated (EC) motor to ensure high levels of energy efficiency.
www.titon.com