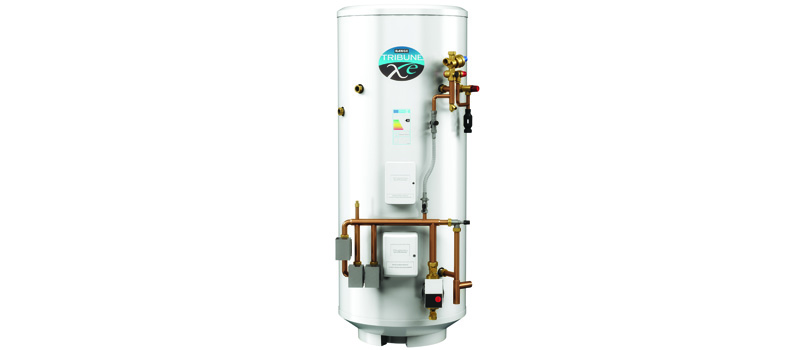 The new Range Tribune Xe series of unvented cylinders has been designed for maximum efficiency. Stuart Duff gets the lowdown from Kingspan Environmental on the launch.
Kingspan Environmental has unveiled a new generation of unvented hot water cylinders that the company believes will set the standard for performance as well as improving installation time and ease.
In a domestic water heating sector focused on energy efficiency as a consequence of EU regulation and the UK's own carbon reduction targets, new design features have been incorporated which are intended to make the Range Tribune Xe a significantly improved offer in terms of both ErP rating and SAP assessment.
The new casing specification and thicker insulation improve thermal efficiency. In fact, the cylinder benefits from 45% additional insulation with a minimal increase in size and weight. An internal expansion space, doing away with a separate expansion vessel, and integrated immersion heater design emphasise the aim to provide a 'best in class' cylinder. With its new Wilo Yanos A-rated circulator pump, composite inner vessel support and swivel design T&P relief valve, the company states that every potential heat loss point has been thought about and improvements made.
Trevor Cross, Kingspan Environmental's Sales Director for New Build and Specification, is confident that Tribune Xe will lead the way: "Test results show not only that the Tribune Xe will be top of the energy efficiency class for cylinders but also that its re-heat performance and insulation levels exceed all Building Regulations' requirements. Put all that product quality together with our customer service focus and in-house design consultancy and we have a genuinely added value offer for energy efficient domestic water heating solutions."
The Tribune Xe range (which replaces the Tribune HE range) has 29 direct and indirect models from 90 to 300 litres in capacity, including pre-plumbed and solar versions. The 120 and 150l variants are ErP A-rated.