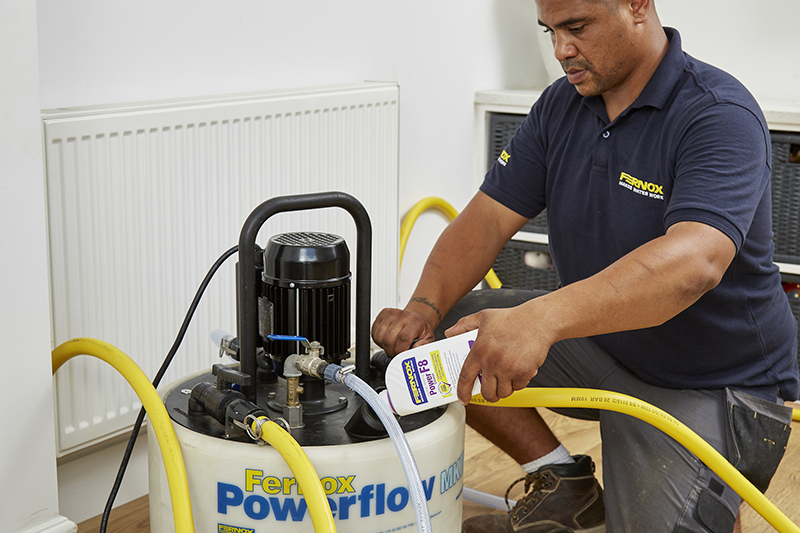 Fernox Power Cleaner F8 is a citric acid-based cleaner designed to remove corrosion, scale and other debris in heavily contaminated, sludged central heating systems; to restore and maintain optimum efficiency and reduce the risk of breakdown. Fast-acting, this new formulation, heavy-duty cleaner includes a high concentration of key active ingredients.
Deisgned to be ideal for retrofit scenarios and boiler swap outs, when existing systems need to be thoroughly cleaned, Power Cleaner F8 can accelerate and aid the cleaning process. Suitable for use with manual, magnetic or powerflushing cleans alike, this high strength cleaner is non-foaming, which means installers require less time on site to remove residual cleaner from the system. Its pH neutral formulation also means that no follow up neutraliser product is required.
Each 500ml bottle of Power Cleaner F8 includes a high concentration of key active ingredients, meaning that one 500ml bottle can treat central heating systems up to 130 litres (16 single radiators) or 250m2 of an underfloor heating system.
Richard Crisp, Head of Chemistry at Fernox, said: "We are constantly striving to make sure that our product range is comprehensive and offers installer the best choice of high performance, quality products so they are equipped with everything they need, across a range of jobs. We want to ensure that each type of system cleaning – including powerflushing, a methodology recommended by BS 7593:2019 – is even easier and faster   for installers to complete using the new Power Cleaner F8. This pH neutral cleaner is a powerful and fast-acting chemical solution due to the inclusion of a neutralised citric acid in the formulation, which can be used on older, problem systems. Power Cleaner F8 sits alongside the universal Fernox Cleaner F3 (available in 265, 500ml and Express versions) for new and lightly sludged systems and DS40 Descaler and Cleaner, which is ideal for use against limescaled systems that require an acid based cleaner and neutraliser to restore efficiency."