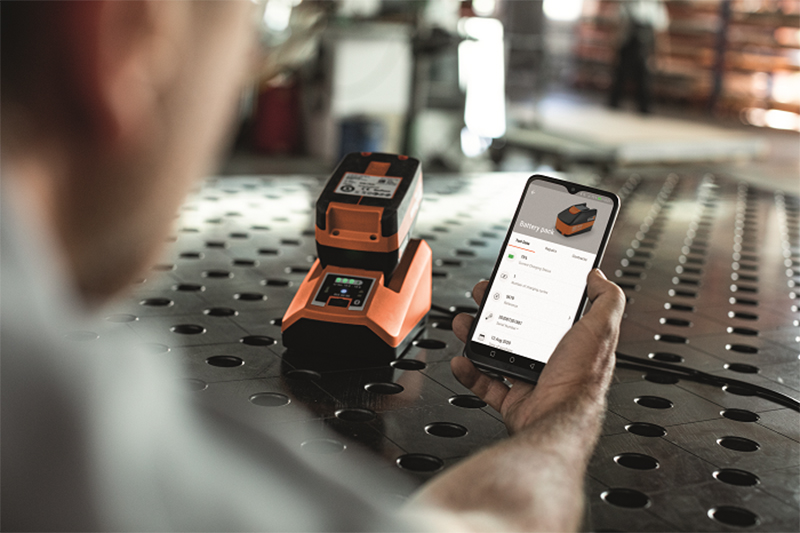 FEIN has released a series of new products to the UK market, including a new Bluetooth charger, a metal chop saw and its brand-new service app, my.FEIN, allowing users to access everything from warranties and receipts, to battery information and services.
The new ALG 80 BC has 8A charging current for short charging times and Bluetooth connectivity. It's compatible with FEIN's entire 18v cordless range, including MultiMaster and the 18v Combi Drill, as well as the my.FEIN app, communicating charge status and cycles, while sending push notifications when the battery is full.
The new MKAS 355 metal chop saw has also launched across the UK and delivers precise, rapid results when cutting metals. The cold cutting process means the material isn't as heated, resulting in no metal dust extract to ensure maximum safety for end users. The saw also includes a powerful 1800 watt motor with soft start technology, alongside an ergonomic handle design to combine comfort, safety and power.
"We are always looking for more ways to make our customer's lives as easy as possible, with safety firmly front of mind. We have channelled this into our new Bluetooth battery, MKAS 355 metal chop saw and the my.FEIN app," comments Andy Mills, managing director of FEIN UK.
"The products aim to create a more efficient experience for our end users, in turn offering increased productivity."
The charger is compatible with all FEIN Li-ion batteries and also comes with a USB charger, which can also be used to charge smartphones, tablets and other mobile devices.
With the my.FEIN service app, users can access all of FEIN's services in one place. The app will store all registered tools, including an individual inventory number for each tool, while making it even easier to register tools. Users just need to scan the nameplate using the camera on their smart device. The app also stores sales receipts and warranty certificates, while users can book any repairs they may require.
In addition, new tools registered on the app can qualify for FEIN's three-year warranty. FEIN power tools, lithium-ion batteries and associated chargers all come with a three-year warranty, rather than the statutory one-year. my.FEIN is available to download on iOS in the App Store, as well as on Google Play.
"The products, as well as the my.FEIN service app are now available to our UK customers and really complement our existing portfolio," concludes Andy.