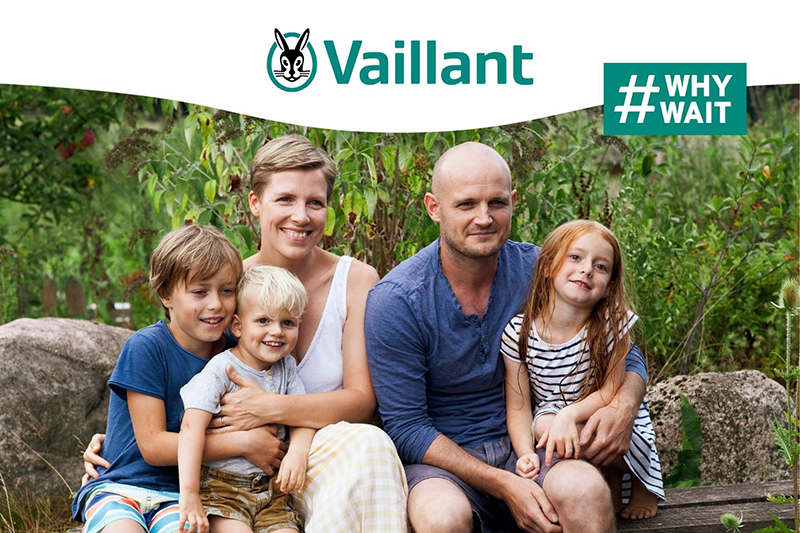 Building on the success of its advertising campaign which ran from January to May, Vaillant is set to appear on the nation's screens and airwaves this winter.
The multi-million pound Why Wait consumer advertising campaign has been viewed more than 324 million times by homeowners in all corners of the UK since it was launched last year. And this winter, the TV advert will once again emphasise the importance of having an efficient heating system, whether that be a boiler or a heat pump, to help reduce carbon emissions caused by heating your home. To further strengthen the campaign, it will also be supported by a radio and digital campaign, to reach an even larger audience and maximise brand recall.
Alice Woolley, Marketing Director at Vaillant, says: "There's still a pressing need to reduce carbon emissions from heating our homes. We understand that heating engineers want to play their part in making this happen – not only for the business opportunities on offer, but also to help make a difference to our planet.
"But there is still a long way to go to raise awareness amongst consumers, to educate them on how they can improve their heating system and make it more energy efficient and therefore more sustainable too.
"By continuing with our Why Wait marketing campaign this winter, we want to reinforce Vaillant as synonymous with energy-efficient and sustainable heating. Our ongoing investment in this campaign proudly supports installers and their businesses, by generating leads for them and making it easier to specify Vaillant's products on the job."
Mark Wilkins Technologies and Training Director at Vaillant says: "As the UK's low carbon future becomes a reality, it's no surprise that heat pumps are gaining more and more attention due to the Government's net-zero ambitions. However, consumers may still be unsure about their options when it comes to low carbon heating solutions. That's why, as a manufacturer with a full range of heating solutions, we are perfectly placed to educate consumers on how this can be achieved.
"As part of this goal, we are continuing with our Why Wait advertising campaign to raise awareness of the Vaillant brand and the sustainable heating products we can provide. In addition to educating homeowners, we remain committed to supporting installers too, which is why we've developed a range of training courses geared around low carbon heating."