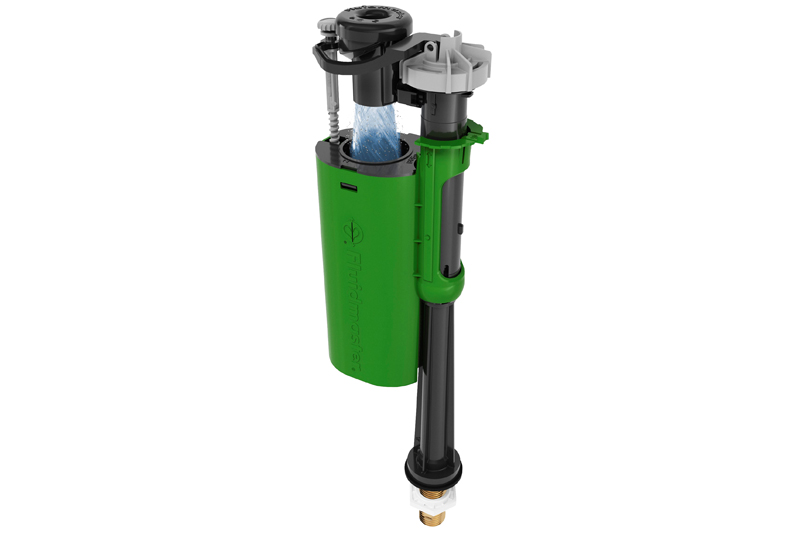 Fluidmaster has launched the Airgap 6000 Series, described as the only adjustable cistern fill valve to completely eliminate backflow
The Airgap 6000 Series is reported to be the only height adjustable, bottom-inlet toilet fill valve which is compliant with UK Water Fittings Regulations; representing a fast and simple 'one-stop' solution for blue water issues.
The new cistern fill valve contains all the high-performance features for which Fluidmaster products are known, whilst simultaneously complying with BS1212-4 and all required regulations.
The range has been fully designed and manufactured by Fluidmaster in the UK, working with water companies, test laboratories and WRAS. Specifically engineered to provide a complete and compliant backflow solution, the new generation AUK1 compatible Airgap range is the only height adjustable fill valve which completely eliminates backflow. Other installer-friendly features include: easy 'no tool' service; quiet refill with the spiral flow Vortex Generator; unhindered performance at low and high pressures; delayed/non-delayed side and bottom entry; plastic and brass fixings available.
This flexible solution has been engineered to fit virtually all cisterns on the market, with quick and simple adjustment options.
Water saving with the Airgap 6000 Series
*29.1 million UK households
*Average household occupancy of 2.5
*Average daily flushes – five per person
*Figures from NCC say the Airgap 6000 saves up to 1 litre per flush
*If every toilet in the UK was fitted with a delayed-fill Airgap valve, enough water would be saved to meet the consumption needs of the entire population of Wales; including drinking, bathing, washing dishes and clothes, brushing teeth, car washing and more!
Andrew Craig, Technical Director, says: "Our new Airgap 6000 is an important tool in solving the issues resulting from blue water backflow. We have a talented technical design team and our own dedicated testing facilities, which have enabled us to create this next generation product range, to prevent the contamination issues which have previously arisen.
"In addition, the unique adjustable nature of the Airgap 6000 means that 'one size fits all'; reducing the amount of stock which needs to be carried and ensuring that the right part can be sourced and installed quickly and easily."