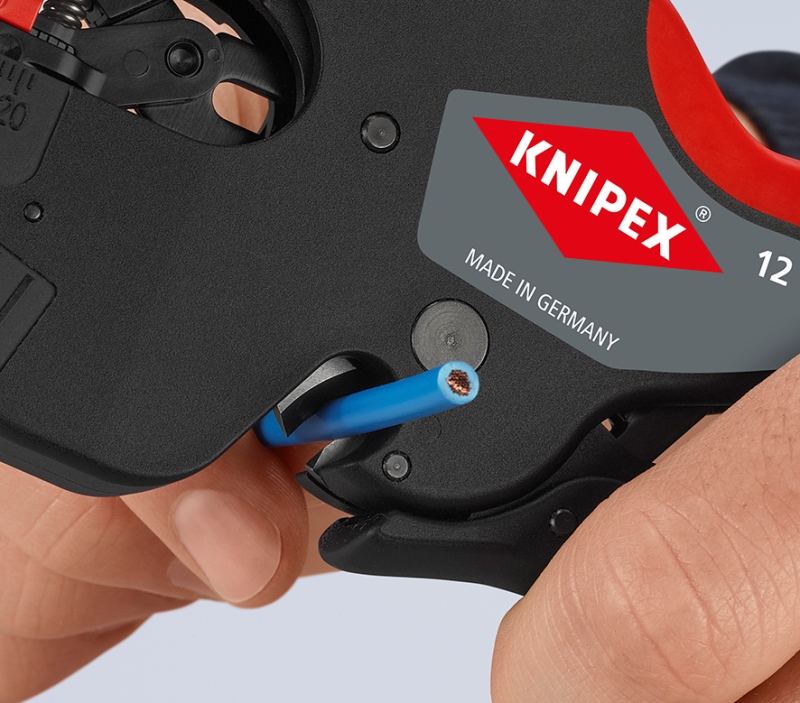 The KNIPEX NexStrip is a versatile tool which cuts, strips and crimps – three crucial applications all at the same time. It isolates flexible and solid conductors from 0.03 to 10 mm² with automatic adaptation to the cable cross-sections; it self-adjusts wire end sleeves between 0.25 to 4 mm² /2 x 2.5 mm²; and cuts flexible conductors up to 10 mm².   
As stripping pliers, the tool automatically adapts to each cable diameter, ensuring consistent stripping lengths thanks to the adjustable length stop. The fine adjustment enables reliable stripping of flexible and solid conductors between 0.03–10mm². 
The ratchet crimping mechanism allows for exact crimping pressure for high crimp quality. It is self-adjusting between 0.25–4mm² /2 x 2.5mm² and has been designed for quick crimping between different sizes.   
As a cutting tool, the KNIPEX NexStrip separates flexible conductors up to 10mm².  The handle is a non-slip and ergonomic handle.