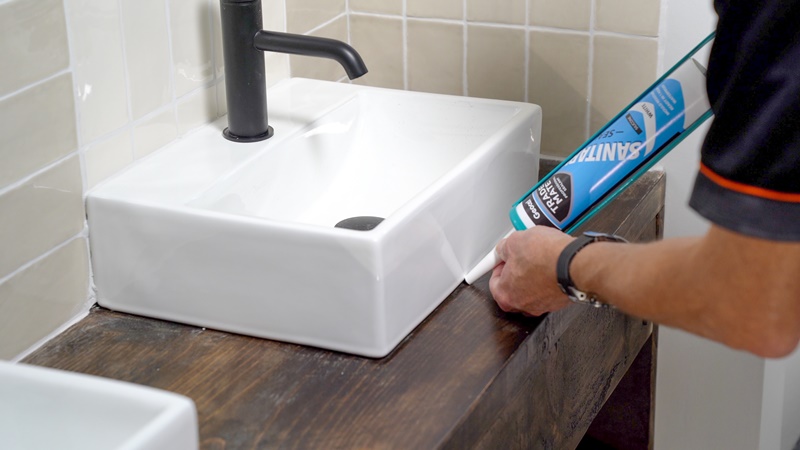 While sometimes overlooked, choosing the right sealant products is essential to the overall finish of a bathroom installation. Andy Cummins, Senior Product Manager at Geocel, outlines what is available and explains what professionals should look for. 
As any tradesperson will understand, the use of low quality products, even for the seemingly smallest elements, has the potential ruin an otherwise professional installation. For example, the use of a poor quality sealant, or one that is not designed for the task, can have a significant impact.  
Poor quality sealants in bathrooms can lose adhesion and fail, sometimes after just a short time, or quickly become stained with mould and mildew. This will lead to call-backs and customer dissatisfaction with the work, plus a risk of water seeping into areas where it shouldn't be and causing damage. For businesses that rely on positive word of mouth recommendations to attract new customers, this is a serious issue. 
With so many sealant options available it can sometimes be difficult to know which is the right product for the job and different areas of the bathroom will often need a specific type of sealant. 
Sealants for wet areas
One of the major areas of any bathroom job where a quality product is required is for sealing around sinks, baths and showers. Here a silicone sealant is ideal as these generally offer good adhesion on a wide range of non-porous surfaces such as plastic, glass, ceramic, porcelain and most metals. Silicone products also offer good elasticity as well as UV, water and temperature resistance. The permanent flexibility of a good quality silicone sealant means that it will accommodate movement of the joint without losing adhesion. It is also worth looking for a product, such as Trade Mate Sanitary Seal, that is specifically designed for wet areas and includes an effective fungicide to resist unsightly mould growth.  
Where there is a need to seal around an area that includes porous surface materials, such as stone, marble or granite, a neutral silicone sealant should be used. This type of product, which includes DOWSIL 785N, will perform the same role as other silicone products but will not stain the surface of the material – providing the ideal solution for both porous and non-porous sanitary surfaces. 
Sorting gaps and cracks
When taking on a whole bathroom renovation job, there will often be a need to fill gaps and seal around areas such as door frames and skirting. Here an acrylic product is recommended as they are suitable for use on a wide array of materials including plastered walls, masonry and wood. While acrylics cannot be used where there will be contact with water, they are overpaintable, allowing a seamless high-quality finish.  
Although many acrylic products are often considered unsuited to areas that experience significant movement, there are options on the market, such as Painters Mate Flexible Filler, that have a degree of elasticity to resist cracking. 
For fixes and repairs
For some jobs it will be a leaking bath or shower that needs to be addressed or a renewal of existing fittings rather than a full replacement. For these tasks it is useful to have a MS polymer product to hand as they are great all-rounders. They provide the flexibility and durability of silicone as well as the paintability of acrylics and can also be applied to wet or dry surfaces. This makes MS polymers ideal for replacing old sealant in bathrooms as there is no need to thoroughly dry the area before application.  
MS Polymers are also non-staining on porous materials, so they provide another option for sealing when working with certain types of stone. MS polymer products can also be used as an adhesive on a wide range of materials meaning it is a highly versatile option. 
Choosing a quality solution
It can often be difficult to determine the quality of the product without using it. That is why it is important to select products from a trusted manufacturer that offers a range of solutions, formulated for different applications. Leading brands such as Geocel invest heavily in research and development, as well as product testing, to ensure trade professionals benefit from high-performance sealants and adhesives.