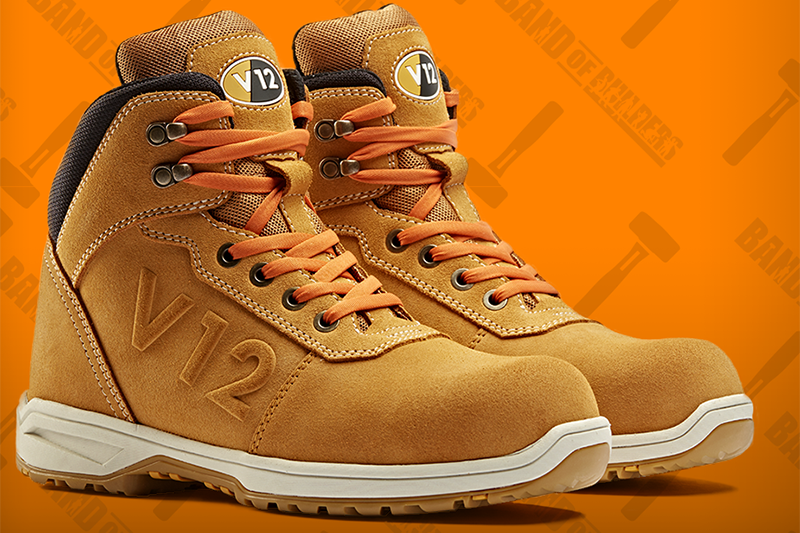 Tradespeople can put their best foot forward to raise money to help colleagues in the industry by buying a brand new BoB boot to wear to work.
V12 has teamed up with national construction charity Band of Builders to launch the special boot, with £5 from every pair sold going to BoB to help members of the construction industry in need of help.
Band of Builders is a registered charity that helps members of the UK construction industry battling illness or injury through the completion of practical projects. The charity has carried out 19 projects to date, with the 20th set to take place later this year. Projects are carried out by volunteer tradespeople who work for free using materials supplied by the construction industry and funds raised by the charity.
The BoB boot incorporates V12's lightweight composite safety toe cap; cushioned anti-fatigue insole for comfort; moisture-wicking lining to keep feet cool and dry; flexible anti-penetration steel midsole for underfoot protection; and high quality suede leather.
Pre-ordering is open on the boots, which retail at £63.99. Each pair also comes with a pair of exclusive Band of Builders orange laces so the wearer can proudly show their support for the charity.
Andy Turner, Managing Director at V12, said: "We're delighted to have launched the BoB boot, which uses our years of experience in designing industry-leading boots for the construction sector to produce something that ensures tradespeople and construction workers have access to high-quality protection whilst also supporting the heroes at Band of Builders. Not all heroes wear capes but they should wear safety boots."
Shane McCormick, Trustee at Band of Builders, said: "We were thrilled when V12 came on board as a charity partner to Band of Builders. The launch of the BoB boot is a great way to raise funds that we can put towards future projects to help even more tradespeople and their families, as well as for construction workers to keep themselves safe with quality footwear and show their support for BoB through their special laces.
"It's great news all-round and we can't wait to see people in the sector putting their best foot forward in their new BoB boots!"