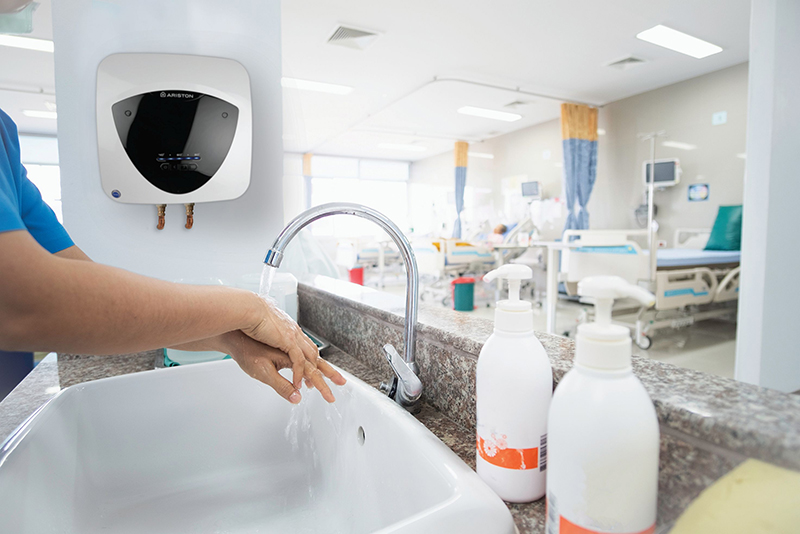 With hot water essential in healthcare environments, Ariston has developed a range of electric water heating products suitable for applications such as hospitals, care homes, GP offices, opticians and dentists. These water heating products keep energy bills and maintenance to a minimum, while preventing scalding and the development of legionella.
The construction, installation, commissioning and maintenance of hot (and cold) water supply systems is vital for public health. Healthcare premises rely upon an uninterrupted supply of water to maintain hygiene and a comfortable environment for patients and staff alike, as well as for treatment and diagnostic purposes.
Ariston's electric water heaters have been designed to ensure a constant, hygienic supply of water, while they can also be fitted in locations when space is at a premium. The company's Andris range includes the Andris Lux Eco (pictured above), a small, unvented water heater fed directly from the cold water mains supply. Renowned for outstanding levels of safety, durability, comfort and design, these state-of-the-art units are available in capacities of 10, 15 and 30 litres – in over and undersink versions.
Demand for larger capacities can also be addressed by Ariston's Pro1 Eco electric storage water heaters. These models are available in capacities of 50, 80 and 100 litres, with all models benefitting from Ariston's patented WaterPlus technology; this keeps any incoming cold water at the bottom of the tank, preventing it from immediately mixing with the stored hot water. Reducing stratification in this manner ensures there is up to 16% more hot water available.*
Both the Andris Lux Eco and Pro1 Eco units also have additional features beneficial to healthcare applications – in particular, anti-legionella functionality. The Health and Safety Executive (HSE) stipulates systems should have "adequate turnover of water to prevent stagnation in storage vessels and distribution systems," to prevent legionella from developing.
The primary method used to control the risk from Legionella is water temperature control. Ariston's anti-legionella software utilises this principle by automatically increasing the water temperature inside the units up to 65°C for 60 minutes once a month. Doing so helps eliminates legionella bacteria inside the tank to ensure healthier water.
The software will automatically perform its anti-legionella cycle if the unit hasn't reached 60°C in 30 days. However, if the water temperature has reached 60°C during this period, the cycle is not activated; instead, it 'resets' and begins a fresh count.
These electric water heaters also boast Ariston's 'Eco Evo' function – an electronic control with software that automatically learns from daily usage habits. This addition can provide energy savings of up to 14%; the equivalent of running an A+ rated fridge-freezer for approximately a year in conjunction with the self-learning functionality which maximises comfort levels, significantly reducing environmental impact and lowering energy bills.
Both Ariston's Pro1 Eco and Andris Lux ranges are KIWA approved. All Pro1 Eco units are supplied with an unvented kit plus a five-year manufacturer's warranty, whereas Andris Lux Eco units have a four-year warranty as standard.
* Maximum estimated saving based on testing conducted at maximum operating temperature between current and new Ariston products equipped with WaterPlus Technology