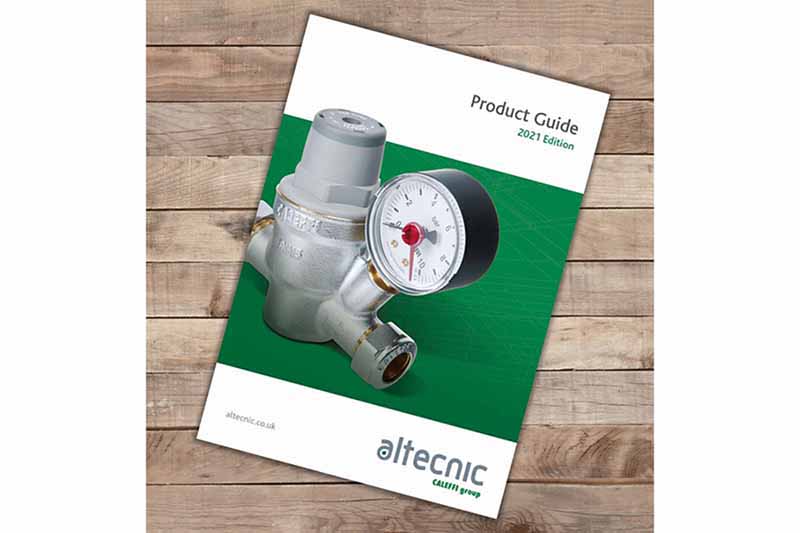 Altecnic has unveiled its latest product brochure for the coming year, showcasing 136 new product lines as well as a new five-year extended Caleffi warranty on key products.
Altecnic offers more than 5,000 domestic and commercial products and 136 of these are featured for the first time in the 2021 brochure – which is available to view and download here
The new extended five-year Caleffi warranty is offered on popular models of Thermostatic Mixing Valves (TMVs) and range of Pressure-reducing Valves (PRVs). Altecnic already offers a five-year warranty for its SILFRA commercial washroom products and nitrogen filled Reflex expansion vessels.
New products in the brochure include Mixcal Careflo Plus, a new Thermostatic Mixing Valve (TMV) with thermostatic override function; Dynamical low flow presettable thermostatic radiator valve; Caleffi Code smart heating controls; and Silfra Infrared Taps.
The Mixcal Careflo Plus TMV enables the thermal disinfection process to be brought up to the tap or shower head, reducing the time and cost of the maintenance required to remove the potential for bacteria growth such as legionella.
Guarenteeing energy saving, the Dynamical presettable radiator valve allows the automatic dynamic balancing and pressure-independent adjustment of the thermal medium in the radiators of two-pipe heating systems.
Caleffi Code is a new smart thermostatic control which allows heating control from a smartphone or tablet.
The Silfra IR range of infrared taps mean touch-free hot and cold water water, ideal for public places where hygiene and water conservation are key.
Gary Perry, Managing Director at Altecnic, said: "This new brochure for 2021 is our largest to date which reflects the big strides we have made in the last year to further develop and enhance our product range to meet industry and customer demand.
"Our product brochure continues to showcase our range and breadth of products as well as demonstrate our innovation. As always with Altecnic, quality comes as standard as well as our products being accredited and compliant and backed by the history and credentials of our parent company, Caleffi. This is evident in the introduction of Caleffi's extended warranty across key models in our TMV and PRV range, a testament to the superior quality of these products.
"All of this is backed up by our technical datasheets and support team to ensure that once you buy the product we are still there to lend a hand. Not only as part of installation but on an ongoing basis."