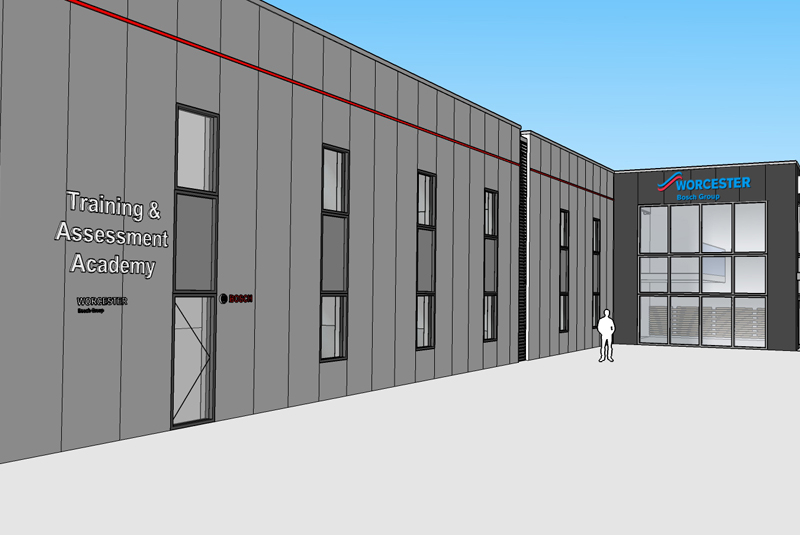 Worcester, Bosch Group has unveiled significant plans to redevelop and expand the training and assessment facilities at its headquarters to further enhance the support on offer to industry professionals.
Set to commence in August and run until January 2017, the £2.3 million project will see Worcester improve and expand its training facilities with the aim of increasing the numbers who can benefit from its professional development programmes each year by over 60%.
The initiative will see the buildings surrounding the manufacturer's state-of-the-art Training Academy remodelled to satisfy increased demand for training, and redesigned to facilitate the differing technologies and requirements that the heating industry now needs. Further enhancements will see available parking increased and the creation of a covered walkway from Worcester's main factory and offices to its training buildings.
This latest announcement follows Worcester's decision to give every installer who visits its headquarters for a training course the opportunity to take a tour of its factory and facilities to see the quality and eye for detail that goes into every boiler first hand.
Nick Fothergill, Training Manager at Worcester, Bosch Group, commented: "The decision to redevelop our training facilities follows a surge in demand for training from installers, specifiers, and merchants. Our range of new technologies is only expected to grow over the coming years, so it is more important than ever that we have the training resources to match.
"When we added a new, purpose-built Training Academy to our on-site facilities in 2012, it was the first of its kind and underlined our status as the country's leading provider of plumbing and heating training. Now, with plans to enhance our headquarters' training provision even further and improve our factory and facilities tour at the same time, we hope to create an outstanding visitor experience for all."