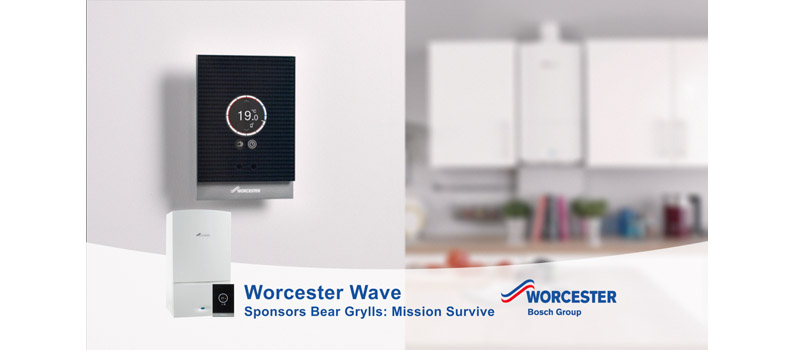 Worcester, Bosch Group, has launched its latest consumer communication campaign which sees the manufacturer promote the benefits of products – and in particular the new Wave Smart controller – to millions of homeowners across the country.
Worcester is now sponsoring ITV's new 'Mission Survive' series fronted by Bear Grylls. The show sees eight celebrities including double Olympic champion Dame Kelly Holmes, and former England International rugby player Mike Tindall, face a 12 day survival mission unlike anything they've ever experienced before. To stay alive they must learn to navigate difficult terrain, build shelters, make fires and eat the food that nature provides.
Each of the six hour-long episodes features Worcester idents either side of commercial breaks, where viewers will see the benefits of being able to control their heating from anywhere using the innovative Wave app and smart controls.
When connected to a Greenstar boiler, Worcester's Wave Smart controller takes comfort, control and efficiency to the next level, allowing homeowners to manage and adjust their heating and hot water setting from a smartphone or tablet, using a wireless internet connection. So, even if homeowners are in the remotest of conditions, if they are connected to the internet, the temperature of their home can still be checked and adjusted remotely.
Speaking of the campaign, Sue Pennington, Consumer Brand Manager at Worcester, Bosch Group said:
"This campaign gives us the chance to raise brand awareness and we are delighted to be sponsoring this prime series on ITV's flagship channel.
"The Wave gives control back to the homeowner and allows them to monitor their heating, hot water and energy usage – even from afar. With the celebrities enduring some of the toughest, and undoubtedly cold, conditions we are sure they will wish to return home to a warm home and a hot bath and with the Wave app and controller they can do just that."
Make sure you tune into the series which began on Friday 20th February at 9pm, and will air every Friday until 27th March.
To find out more about Worcester, Bosch Group's energy-efficient and renewable heating products visit www.worcester-bosch.co.uk