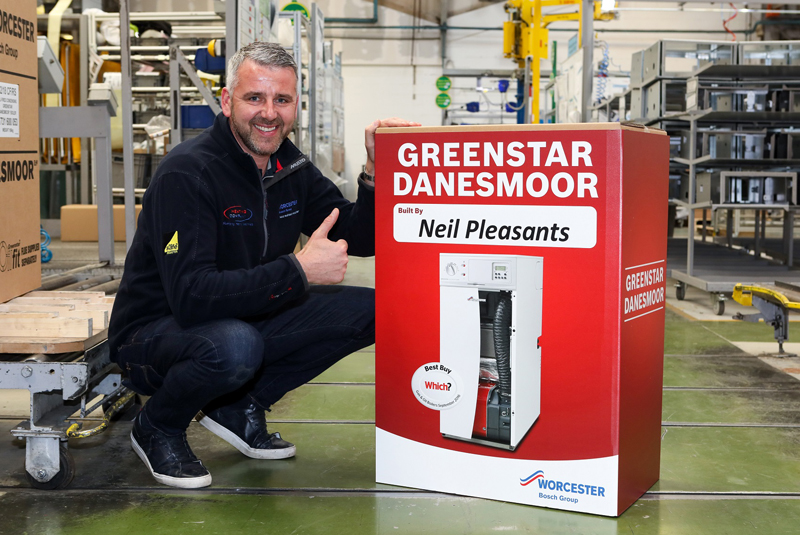 One lucky installer has been given a feel for life on the factory line at the Worcester Bosch Group's specialist oil boiler factory in Clay Cross, Derbyshire – taking home a brand new appliance built on the day.
Cambridge-based installer, Neil Pleasants, was invited to test his skills on the production line having taken top prize in the Oil Installation category at Worcester's Environment 2020 Awards last year for his year-long transformation of a farmhouse heating system in Cambridgeshire.
Following the success of a Build a Boiler day at Worcester's gas boiler factory earlier this year, Neil was given a full tour of the factory's press shop, paint shop and weld area, before being put to work on the oil boiler track where the manufacturer's boilers are made. After assisting in the construction and welding of the primary heat exchanger and the secondary condensing heat exchanger, Neil was put to work tightening the boiler's burner flange, fitting the condensate trap, and securing the side panels and burner. Then it was over to testing to ensure Neil's Greenstar Danesmoor condensing boiler passed Worcester's rigorous standards before it was packaged and ready to be installed.
Neil, of The Heating Company, Cambridge, commented: "Our work split has gone from being around 30% oil to more like 60%, so it was fantastic to get a feel for what goes into the boilers before we get our hands on them. We're hoping to give the boiler itself away to one of our elderly customers this winter, so I'm sure it will be very much appreciated once we've found an installation that it is suited to."
Jon Watson, Plant Director at Worcester's Clay Cross factory, commented: "We're extremely proud of the boilers we make, and with our entire range of Greenstar oil boilers having recently received a Which? Best Buy award for the very first time, this was a great opportunity to show off all the hard work that goes on behind the scenes."
To register your interest in a factory tour at Worcester, Bosch Group, or to find a training course local to you, visit: www.worcester-bosch.co.uk