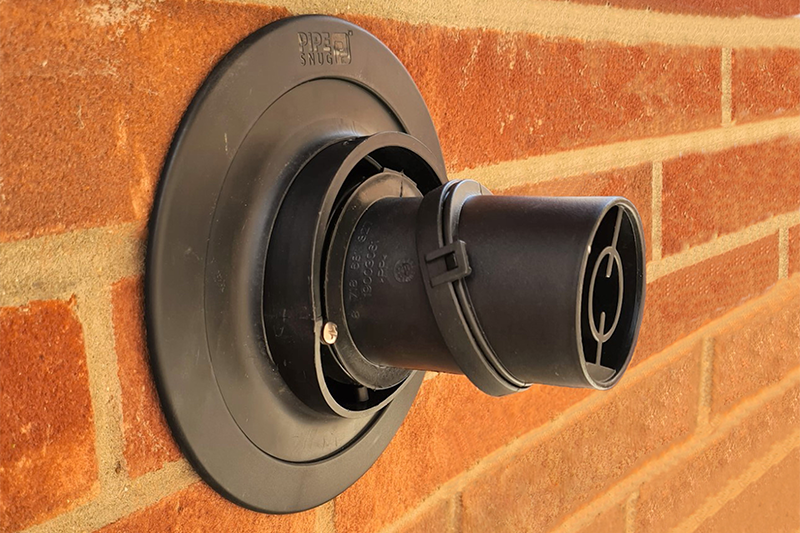 Worcester Bosch has issued a new technical bulletin featuring FlueSnug, the flue seal that can be fitted in seconds and without the need for mortar or sealant. The technical bulletin covers the Installation of Horizontal Flues and sealing to the building fabric. The bulletin also features a guide to fitting FlueSnug with Worcester Bosch's Oilfit and Condensfit II flues.
Removing any need for pointing, FlueSnug can be installed in less than five seconds and snuggly fits the 152mm core-drilled hole in the wall through which the boiler pipe and flue exits. FlueSnug can be used both inside and outside the property for the best finish and prevents heat escaping and acts as a barrier to drafts, damp, insects and pests. It can even be installed at height without the need for scaffolding, as it is flexible enough for it to be pushed out from the inside of a building.
FlueSnug also allows installers to quickly access the flue for any service or maintenance requirements, without the need to remove existing brickwork, mortar or sealant. After installation, the FlueSnug can then simply be reinstalled once complete so there is no need to make good again afterwards, saving even more time and cost for installers and their customers.
Approved by major boiler manufacturers, FlueSnug is designed to be the quickest and most cost effective way to comply with forthcoming changes to Part L of the Building Regulations which mandates the need for pipe collars or grommets onto a pipe where it enters or exits a home, helping to maintain the energy efficiency of the building.
"Worcester Bosch has been absolutely top class in supporting the air tightness benefits of PipeSnug products from the very beginning and their Technical Bulletin release is timed perfectly after the recent IPCC report which highlighted the need to make our homes much more environmentally friendly as quickly as possible," says Alex Lever, Director of PipeSnug.