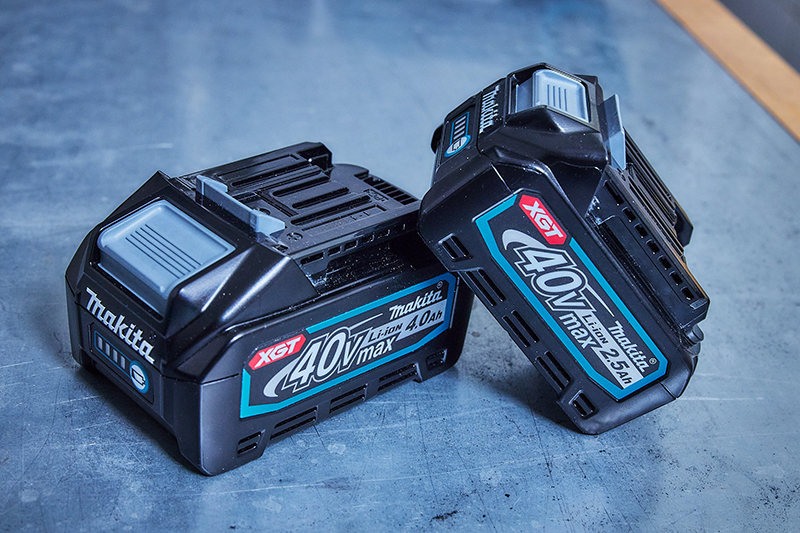 Kevin Brannigan, Marketing Manager at Makita, explains the benefits of opting for power tools that share a common battery platform.
Thanks to advances in tool, motor and battery technology, the cordless power tools available today offer users a wide range of benefits including improved safety, efficiency and on-site productivity. With battery systems now capable of offering high output performance and run times, the popularity of cordless machines has grown substantially in recent years and for many, cordless options are now the go-to solution to tackle most site tasks.
An efficient choice
To ensure that machines can continue to deliver optimum performance and efficiency, leading manufacturers have developed clever solutions to protect the machine and the battery during operation and charging. For example, Makita batteries and tools, and the batteries and chargers are designed to communicate with each other to provide overload and thermal protection as well as prevent over-discharging of the battery, which can be damaging and costly.
Productivity gains can be had by adopting a tool system that uses the same battery platform. After all, when all machines can be operated using the same batteries (and charger), it becomes incredibly easy to switch between tasks, as the batteries can simply be swapped from one tool to the next. In addition, using machines that are all powered by one battery platform makes it incredibly simple to ensure that the right tools and batteries are transported to site and charged.
Taking this approach is also more cost effective, as there is no need to buy a new set of batteries with every new tool purchased, enabling users to opt for lower cost 'body-only' machines to expand their kit.
Selecting the battery platform
Many manufacturers will offer numerous battery platforms that each deliver different levels of output, so it is important to carefully consider what voltage is needed to tackle the majority of tasks. For example, Makita offers, 18V, Twin 18V (36V), 40VMax and Twin 40VMax (80VMax) options that are each suited to different tasks.
Makita's 18V LXT battery platform is the world's largest compatible cordless tool system powered by 18V slide-style batteries, allowing professionals to tackle the majority of jobs with ease, simply by swapping out the LXT battery. The range consists of over 275 different tools including combi and rotary hammer drills, circular saws, angle drills and grinders – as well as useful on-site additions like work lights, wet-dry vacuums, radios and fans.
For more demanding applications, Makita has developed Twin 18V LXT machines that are powered by two 18V LXT batteries that are used together to deliver 36V of power. As 18V and Twin 18V models all utilise the same LXT batteries, professionals can effortlessly switch between lower and higher demand tasks and tools. What's more, the company's Twin 18V LXT system allows batteries with different capacities and levels of charge to be used together. This means that a 6Ah battery and a 5Ah battery (for example) can be used to create 36V of power, maximising efficiency. If the batteries have different charge levels, the tool will simply stop when one battery is empty.
For tasks that require even more power – such as breaking through concrete to expose pipework – Makita has developed 40VMax or Twin 40VMax (80VMax) machines. These models have been specifically designed to handle more demanding applications by offering high output, durability and fast charge times, keeping users working for longer without disruption.
Makita has also made it incredibly easy to integrate XGT 40VMax machines with existing collections of 18V LXT tools. 18V LXT batteries can be charged using the 40VMax XGT fast charger using a simple adaptor, meaning users can utilise both battery platforms and switch between tasks seamlessly.
It is also important to make sure that the battery platform you invest in has a wide range of machines available – so you can always find the right tool for the job.