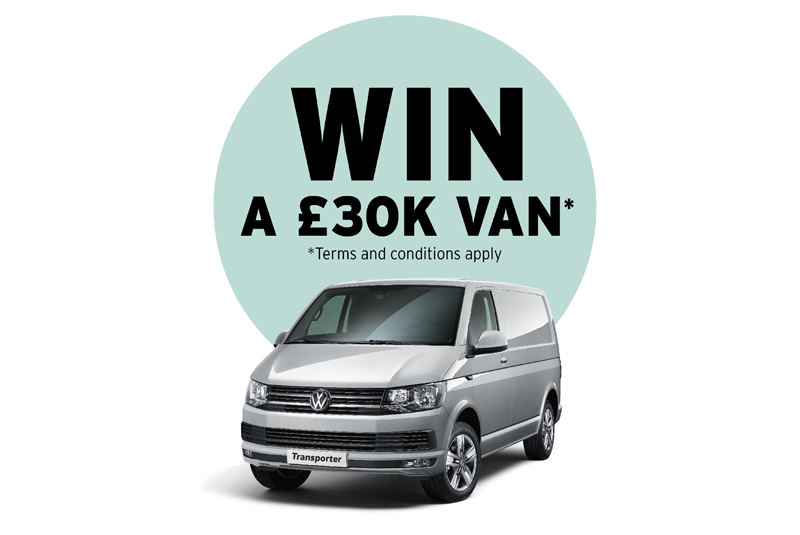 As part of its business support strategy, Vaillant has announced a competition where two lucky installers will win a Volkswagen Transporter T32 van, each worth £30k, and featuring the winners' business branding.
A staple of our roads, the van not only helps tradespeople to deliver many vital necessities to customers, but also serves as the backbone of a tradesperson's business.
As a result, Vaillant will be providing two installers the opportunity to win a van in order to support their business aspirations. Research also shows that in busy areas such as central London, vehicles can be viewed by more than 3,000 potential customers per hour, and with the number of vans on Britain's roads at its highest in the last 25 years, offering installers the chance to stand out from the crowd with their business branding is a no-brainer.
To be in with a chance of winning, installers need simply attend one of the 100 merchant locations as part of the Business Support tour. Installers can also gain an additional three entries to increase their chances of winning by completing the following actions:
*Sign up and attend one of the Vaillant Business Support Clinics hosted around the UK
*Purchase and register any domestic Vaillant boiler on the Advance scheme
*Tweet @vaillantuk with their top van security tips with the hashtag #BeyondTheBox
Alice Woolley, Director of Marketing at Vaillant, said: "As part of our drive to become installers' number one business partner, we're delighted to not only be supporting our customers through our recently launched Business Support clinics, but to also offer the opportunity to win a brand new van by engaging with Vaillant at various events we're hosting throughout the year, or through our social media channels.
"We're also offering an additional chance to win for installers who share their top van security tips. Theft from vans is a vitally important issue, as highlighted by initiatives such as the #noVANber campaign, which is why we want to encourage the installer community to share their tips on keeping their vehicle secure and keeping their livelihood safe. Visitors to the Business Support merchant tour and Clinics will be able to pick up a copy of our 'Little Book of Business', where we provide our own helpful hints on van security."
For terms and conditions, to sign up to a Business Support Clinic, or to find out when the tour is coming to your area, visit www.vaillant.co.uk/BusinessSupport