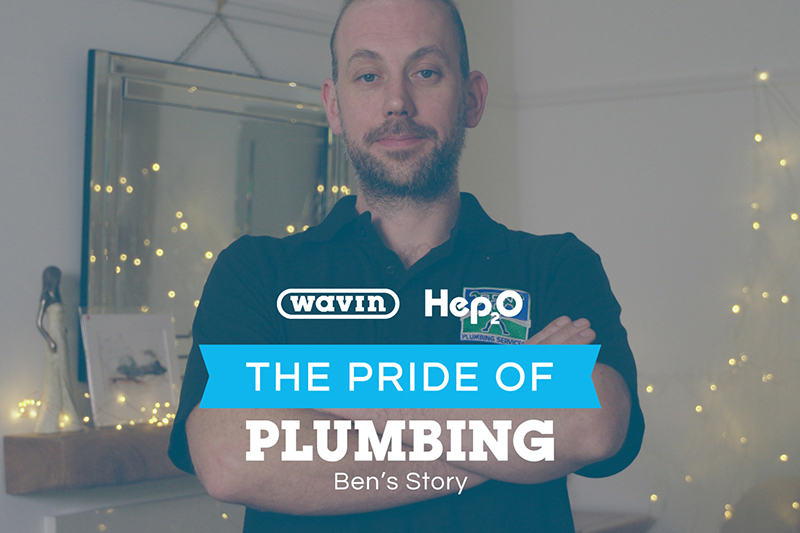 Wavin Hep2O's Pride of Plumbing 2021 set out to celebrate remarkable individuals from the plumbing community. The campaign tells the stories of incredible people who went above and beyond for others during a difficult time. After receiving nominations from across the country, Ben Faherty brings Pride of Plumbing to a festive close.
Ben is the Owner and Director of BON Plumbing Services on the Wirral. He takes home the fourth Pride of Plumbing accolade after being nominated for creating, funding and delivering more than 80 luxury Christmas hampers to those in need in his area. They were filled with everything needed to make a Christmas dinner, selection boxes for children and handwritten cards from Ben's son, Owen, making the giftboxes all the more special.
The idea came from a conversation between Ben and his friend Richie – a housing officer who works with vulnerable people. They realised that food banks in their local area could only be used four times a year by families due to the unprecedented demand put on them during the pandemic. This would have meant that many wouldn't have had access to essential items last Christmas – something they couldn't allow to happen.
Ben's love and dedication for his community was the driving force behind the idea and is demonstrated in the way he runs his business. His customers got right behind him, raising £1,000 to help fill the hampers. Ben's company contributed an additional £500 to make sure that nobody missed out on a special Christmas.
Ben even had to close early in order to deliver the hampers on time. He is already thinking about how to go bigger and better this year: "I am so grateful for family and friends that stepped in to help make this a success, from helping to pack the hampers, to storing the food. Just the idea of someone turning up to a food bank and being turned away because they had been four times previously seems really bizarre. Working with Richie we were able to work out who was most in need.
"We've got no regrets and this year we want to do it all again. We're planning ahead and would love a unit with some fridges to take a bit of the time pressure off."
You can watch the other Pride of Plumbing stories at the links below: