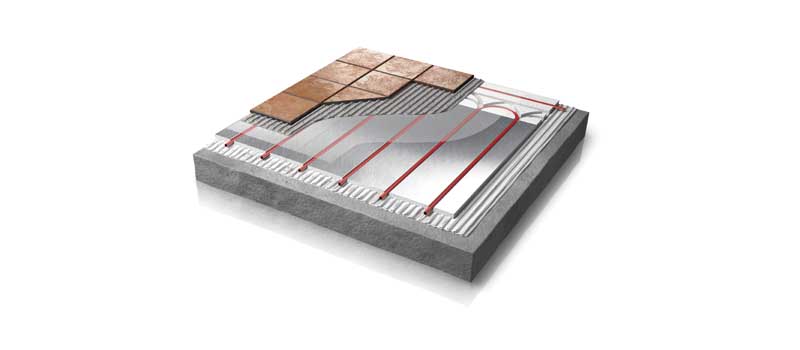 Installers specifying hydronic underfloor heating solutions are often faced with a number of challenges, such as floor height restrictions, cumbersome heating panels, and the inability to immediately tile directly over the heating system.
Warmup's aim is to bring installers products which provide a solution to these challenges, making installation easier, faster and therefore increasing profit margin.
The Total-16 Low Profile System from Warmup is a thin, durable, no screed required, adaptable hydronic system. Working with screed leads to a messy and time consuming installation. With Total-16 you eliminate this unpleasant stage, reducing time and cost from the floor creation process. As the system does not need to heat the screed, Total-16 is able to heat up a room in minutes, not hours.
Total-16 comprises three modular boards — straight, return, and multi-feed. The straight boards come complete with pre-installed aluminium heat diffusion plates. At only 16mm thick, with a 12mm PEX-A pipe, the system will have minimal impact on floor levels. This makes Total-16 ideal for retrofitting, and installations to off plan specifications. With the three boards weighing a total of only 1.7kg, the system is lightweight and easy to handle, allowing for rapid installation. The high density, moulded EPS supports up to 40 tonnes per m², making light work of heavy loads.
In line with Warmup's practice of offering the best warranties and guarantees, Total-16 comes complete with a Lifetime Warranty and SafetyNet Installation Guarantee. This guarantee means that if the system is accidentally damaged during installation, Warmup will replace it free of charge.
When selecting a thermostat to control the Total-16 Low Profile System, Warmup's 4iE Smart WiFi Thermostat is the perfect solution. The 4iE offers the customer energy saving advice based on the company's market leading R&D, and following the on screen tips can save homeowners up to £200 a year on energy bills. Further savings can be achieved when switching energy suppliers based on the better energy tariffs identified by the 4iE.
or visit www.warmup.co.uk