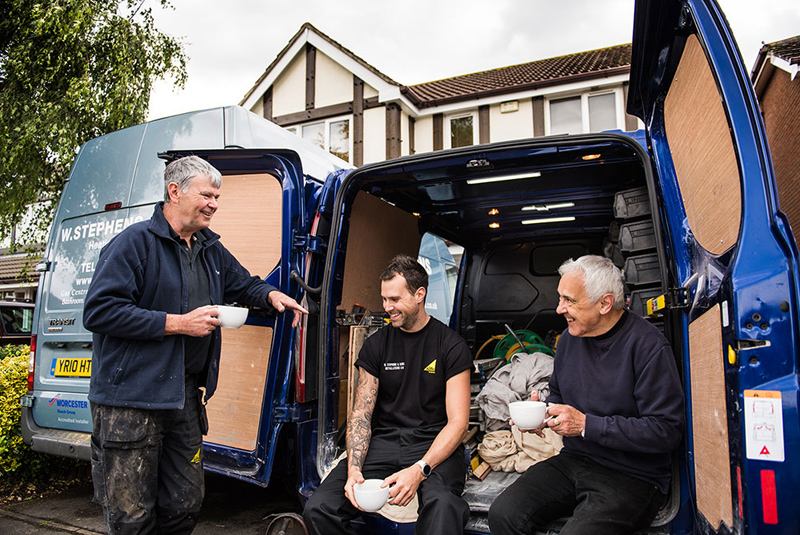 In 1945, a young soldier came back from the Great War to his home in South London, determined to build his life again. He got on his bicycle with a bag of tools and took on jobs for locals. The affection and loyalty he inspired in the community during those early years would fuel a family business running into its third generation.
"Grandad was a larger than life character: everyone knew his name in this town and I just remember him as an incredibly bubbly character," says Chris Stephens (32), the youngest member of W Stephens and Sons Plumbing and Heating, where he works with his dad Ray, mum Janet and uncle Dave.
"Everyone knew granddad in the area, and he worked with the same customers for years and years. We still work on people's houses who were customers when my dad started in the business in 1967. Many of them have become friends over the years too.
"In the 15 years I've been working in the firm, we've seen out two recessions. Each time it got close to the bone, we saw work drop off and we had some months when we worried about the future. But the company's good name and loyalty got us through each time.
"People are always amazed that we've been in business so long, but there's no secret to it at all: it's just down to honesty and hard work. That's the only thing that keeps a business going long term. Grandad instilled these values in dad and Dave, and they've brought me up the same way.
"This is a very good life: people will always need plumbing doing and we still get most of our trade through word of mouth, so we don't have the stress of advertising or chasing work down. I can honestly say that 99 per cent of the time, I wake up happy and looking forward to the day. I work with the funniest people, dad and my uncle, and we all just feel such satisfaction from knowing what we do is worthwhile and seeing people happy with our work.
"I did think about doing something else when I was in my teens and I went on to higher education, but I think deep down I was always going to come back to the firm. I'm incredibly proud of it. My own son was born this week, and I want him to be working beside me when we reach our 100 years in 2045!"