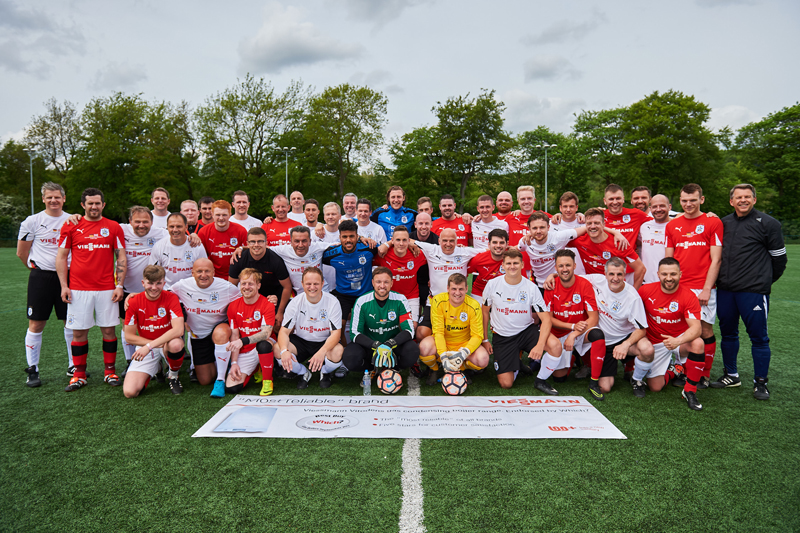 Viessmann-trained installers from England and Germany competed against each other in a friendly, or 'Vriendly', football match at Huddersfield Town Football Club on May 12th.
The score ended 1-8 to Germany, but it is claimed the result did not dampen the spirits of the 11 players who were recruited from Plymouth, Kendal, Cambridgeshire, Derby and Huddersfield.
This was the second England vs. Germany Vriendly to be played at Huddersfield Town's PPG Canalside Training Ground, following the inaugural match last year.
German heating systems manufacturer, Viessmann, is the official heating partner to Huddersfield Town and has been a team sheet sponsor for the past three seasons.
The match came just days after it was confirmed Huddersfield Town would stay up in the Premier League next season.
Marketing Director at Viessmann, Darren McMahon, commented: "The Viessmann Vriendly has become a great way for some of our heating engineers to build relationships with their German counterparts and celebrate the strong Anglo-German link that is mirrored at Huddersfield Town, with its German manager and players. Like Huddersfield, Viessmann is family oriented and it's in that spirit that we've approached the competition."
In addition to the football match, the two teams of installers stayed to watch Huddersfield Town's final Premier League match of the season at the John Smith's Stadium.