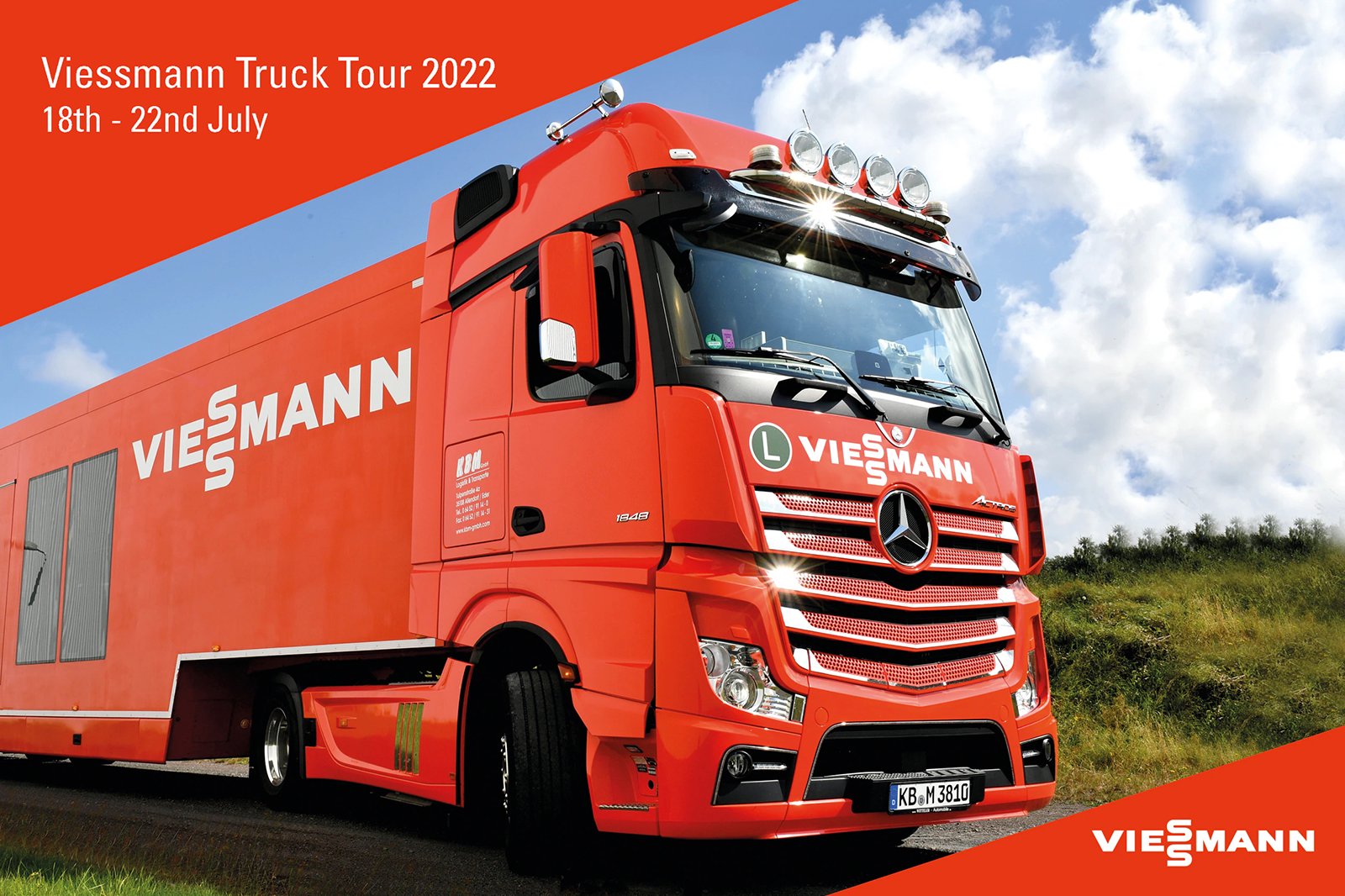 Viessmann will undertake a five-day roadshow across much of the UK in July, targeting residential and renewable installers seeking to explore the next generation of heating solutions.
Taking place from July 18th to 22nd, each day of the Viessmann Truck Tour 2022 will be staged at a different location, using a 'Viessmann orange' Mercedes-Benz Actros truck as a base. The roadshow starts in Leeds before heading to Stratford-Upon-Avon, Bristol, Basingstoke and finishing at the Imperial War Museum in Duxford, near Cambridge.
At each location, attendees will be given an insight into Viessmann's energy transition and sustainability vision, and how a range of Viessmann products, including the new generation Vitocal 150-A/151-A air source heat pumps, will play their part.
Each attendee will be entered into a competition to win a Garmin Smartwatch every day of the tour and will walk away with a VIP Viessmann gift bag.
The wall-mounted Vitocal 150-A and the floor-standing Vitocal 151-A, which went on sale in the UK in May, have a high maximum flow temperature of 70°C (without an immersion heater). This means that, in some cases, the existing hot water cylinder can be retained, depending on its coil size, desired store temperature, insulation level and mechanical integrity. Subject to the system design requirements and seasonalised efficiency calculations, existing radiators may also be retained, depending on the heat loss from the house.
Both of the new heat pumps use the same One Base control platform as Viessmann's boilers, which makes them compatible with the rest of Viessmann's product range. On top of this, they integrate previously separate system elements in the indoor unit (IDU), reducing installation time by 90 minutes.
Chris Leech, Viessmann Customer Relationship Marketing Manager, said: "With heat pumps set to become the mass market product of the future, there is no better time for installers to come along and see how our Vitocal range can slot into existing properties as boiler replacements, providing carbon saving for their customers. In today's climate, it has never been more important to demonstrate real solutions to energy transition challenges."
As well as showcasing the Vitocal heat pump range, Viessmann will also be displaying its electric heating products and Vitodens gas condensing boiler range, a futureproofed series of boilers which is compatible with a mix of 20% hydrogen in the gas grid.
As part of the tour, guests will be able to explore Viessmann's key digital services such as the One Base software platform, ViCare customer app and ViGuide installer app. Combined, these applications make the installation, performance tracking and maintenance of Viessmann heating systems seamless.
Meanwhile, the Viessmann Truck Tour 2022 will also offer training presentations as well as several activities and events, including giveaways to each attendee.
Chris Leech added: "We want attendees to not only discover new ideas and solutions for their customers but have fun while doing it. And to show we're serious about our sustainability credentials, all of the food provided will be locally and responsibly sourced."
To find out more about the tour and its itinerary, and to register a place at any of the five locations, click here