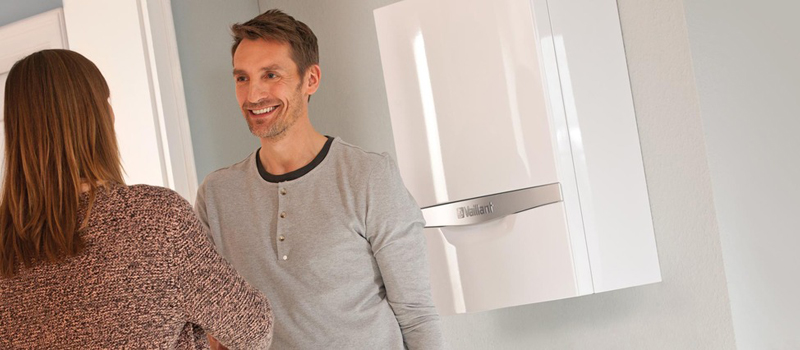 Vaillant is set to launch a range of energy efficient boilers, as it enhances its ecoTEC range to help installers meet the Energy Labelling Directive (ELD) head on and deliver optimum efficiency for their customers. The new boilers will also be Vaillant's most powerful models yet.
Under the Energy-related Products (ErP) Directive, which comes into force on 26 September, an Energy Label will need to be supplied with any heating appliance that is ErP compliant and it will be the installer's responsibility to ensure customers receive this label as a way of understanding how efficient their boiler is.
Available from the beginning of July, the all-new ecoTEC plus combination and system boilers and the ecoTEC pro combination models from Vaillant boast high-efficient pumps and are certified with an 'A' ELD rating. A new version of the ecoTEC plus open vent boiler will also be launched to the market in August.
Not only are the new ecoTEC models fully ErP compliant, when combined with any Vaillant control (such as the VRC 470 weather compensator) they deliver superior efficiency. The enhanced range will directly replace the current ecoTEC plus and pro appliances and offers 'A' ratings across heat outputs, domestic hot water efficiency, as well as reduced dimensions on the range of ecoTEC open vent boilers.
The enhancements have been designed to deliver ultimate efficiency without compromising on power and include the introduction of ecoTEC plus combination and system models with increased flow rate on the combination range, making them ideal for installations which require a more advanced boiler with greater outputs. The ecoTEC plus combination boiler will now be available with a 35kw output and a 30kw model will be incorporated into the ecoTEC pro portfolio.
New additions to the ecoTEC plus open vent boilers will include 12 and 24kw models and the range will incorporate aluminium heat exchangers.
The innovative boilers are fully modulating for maintaining higher efficiencies at lower outputs. In addition, they are fully compatible with the existing range of Vaillant accessories including flues, variable termination kits, cylinders, controls and renewables. The combination model is also compatible with passive flue gas heat recovery devices (PFGHRD).
All pro and plus models boast removable side panels for increased accessibility and are Quiet Mark accredited.
To further support installers as the ErP Directive approaches, Vaillant has launched a programme of activity to make compliance easy. This has included the introduction of an online calculation tool to assist in calculating system labels and training courses that will not only aid installers in dealing with the new legislation, but offer regular refreshers to maximise their knowledge and skills. Vaillant's latest ELD seminar has been certified under CPD and accredited by the Chartered Institution of Building Services Engineers (CIBSE). In addition, Vaillant will be launching a handy ErP guide for installers.
Mark Derbyshire, Commercial Director at Vaillant, comments: "We're committed to fully supporting installers as the industry-changing regulations come into force in September and the enhancements to our ecoTEC range is just one way we're delivering on this. In fact, not only have we upgraded the range to simply meet the regulations, but we've greatly improved the boilers to offer the ultimate energy efficient package suitable for all market sectors. The models are compatible with existing controls and accessories, meaning installers can integrate a total solution from one reliable brand – simplifying installation and offering consistency and reassurance for their own customers.
"Our focus will remain on working closely with installers and, as ErP approaches, we encourage installers to fully utilise our services and support, whether through the new and improved ecoTEC range or through our online tools and training."
To explore the full ecoTEC range or to find out more about ErP and download the guide, visit www.vaillant.co.uk