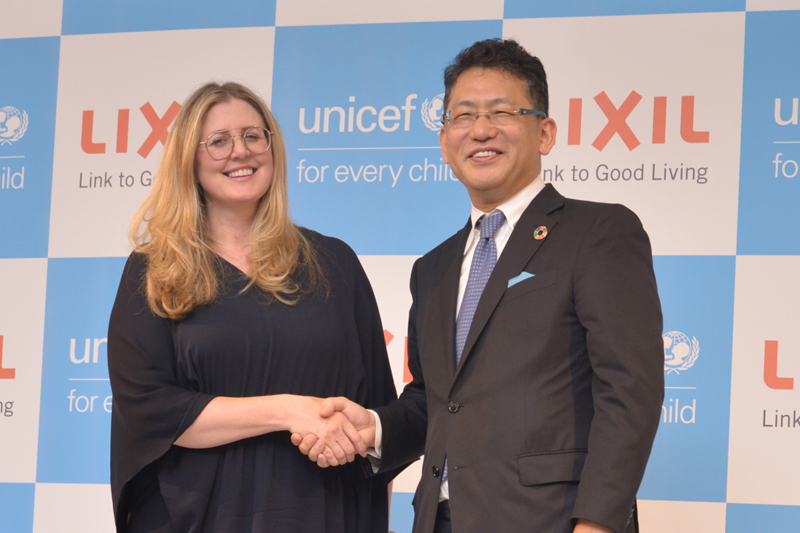 UNICEF and LIXIL have announced they will come together to form a new partnership to help vulnerable children gain access to safe and clean toilets.
The partnership, named "Make a Splash! Toilets for All", will leverage the two organizations' strengths to support progress towards the Sustainable Development Goal of achieving access to adequate and equitable sanitation and hygiene for all, and end open defecation by 2030.
Henrietta Fore, UNICEF Executive Director, explained: "Nearly 800 children die every day from diarrhea caused by unsafe water, inadequate sanitation and poor hygiene. Through this innovative partnership with LIXIL, we hope to help keep every child healthy and alive."
UNICEF and LIXIL have already successfully worked together in Africa to provide people in need of toilets with access to sanitation products which were designed by LIXIL to fit local conditions. The success led the partners to explore ways to expand their collaboration with the aim of imporving sanitation for all.
The new partnership is said to be among UNICEF's most ambitious to date and signals a new way that UNICEF is working with companies who engage their business, at various levels, to achieve significant advances for children. It is UNICEF's first global shared-value partnership in the water, sanitation and hygiene sector, and the first of its kind with a Japanese company.
As part of this new partnership, UNICEF and LIXIL will:
Launch market-driven programmes to help establish a sanitation economy and ensure that sanitation products are available at affordable prices for the people who need them, starting in Ethiopia, Tanzania and Kenya.
Engage in joint advocacy efforts that draw attention to the significant development opportunities presented by the sanitation economy.
Fundraising and engagement activities by LIXIL to support the expansion of the partnership to new countries.
The success of the partnership in expanding access to sanitation, is hoped, will also encourage more players to enter and expand this market.
Kinya Seto, LIXIL Group CEO, said: "In many countries, this 'sanitation crisis' has devastating consequences for public health and reduces children's opportunities for the future, as many drop out of school because there is nowhere to go to the bathroom.
"As a global leader in sanitary products and with a unique brand of products known as SATO that are specifically designed for developing markets, we recognize the opportunity to improve the quality of life for people everywhere by raising sanitation standards, creating genuine social value."