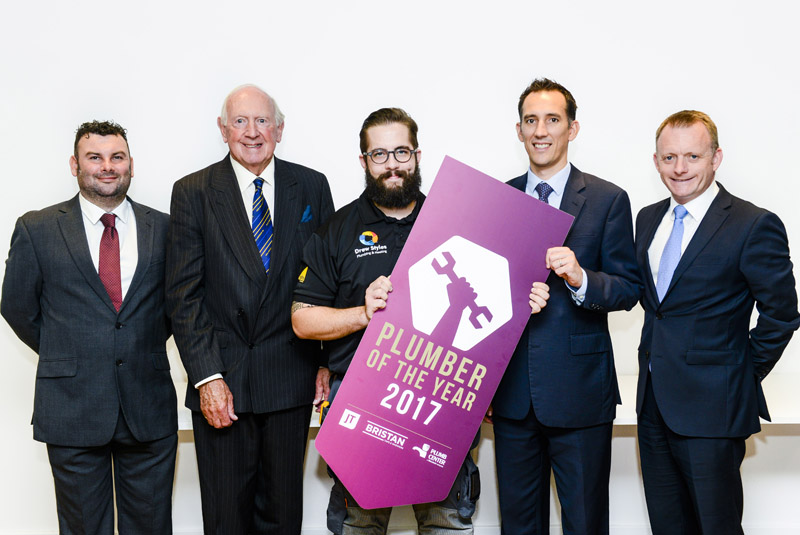 UK Plumber of the Year 2018 has extended its deadline by a full week to allow Britain's hardworking plumbers to apply to win the title.
The competition was due to close on 29th June but, due to a high number of applicants, the deadline to submit entries will now be Friday 6th July.
The competition, sponsored by JT, Bristan and Wolseley UK, aims to find the nation's finest plumber for 2018 and recognise the remarkable level of talent from plumbers across the UK, with a prize fund of over £10,000 worth of prizes awarded to the winner.
This year's prizes will include:
JT and Bristan products, plus a £1000 voucher for Nabis at Wolseley UK
Proper Job beer will be offering this winner a trip to Cornwall – the home of the award-winning beer. The champion (and a guest) will stay for three nights at the Pier House Hotel in Charlestown, with dinner provided for the first night. The winner will also get to visit St Austell Brewery and its interactive brewing experience and visitor attraction. There will also be a chance to have a behind-the-scenes look at where Proper Job is brewed – and there will be plenty of time for some tastings. Four runners up will also get sent a case of Proper Job to toast reaching the final.
£1,000 worth of Rothenberger tools that can be spent at Wolseley UK for the winner
A HomeBoost Salamander Pump for the winner.
A day's session with an established Marketing company to help the winner make the most out of the award
15 Heavy Duty Tubs of BigWipes for the 15 shortlisted plumbers
Chapter 8 Shop will provide one Premium Grade Rear Chevron Kit (Half Kit) for the winner's van. If the winner is part of a team, a fleet of up to 10 can be fitted
Vehicle Livery Solutions will provide the winner with a vehicle graphic design and fitting from their premises in Hull, East Yorkshire.
Jobman Workwear will provide some #gamechangingworkwear for the winner and runners up.
To enter, plumbers need to outline one job they have completed that they believe stands out as a hallmark of the quality of their work.
Once the final deadline for entries has closed, official judging partner for the competition, WaterSafe, will shortlist three plumbers from each of the six chosen regions: North England, South England, Midlands and West, Northern Ireland, Wales and Scotland.
The public vote will then decide who deserves to be crowned as their local winner, with each of the six regional winners then going through to the grand final, which will be held at Bristan HQ later in the year.
To begin an application, head to www.ukplumberoftheyear.com and to keep up to date with all the latest visit @UKPOTY on Twitter and Facebook.com/UKPlumberoftheYear.