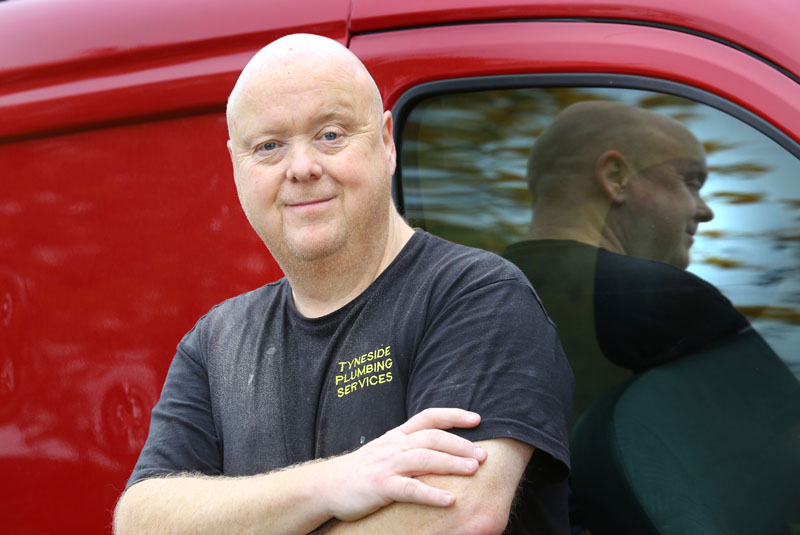 A plumber has seen an increase in trade after tapping into free training which is being rolled out to help and support local skills and enterprise.
55 year-old Dave White, who runs Tyneside Plumbing Services, which provides a range of domestic and commercial heating and plumbing services to local customers, completed a business booster course to help him secure additional work for his start-up company.
The move has led to a surge in demand for his services and he's now planning to expand the business, which he only started in 2016, on the back of a strong forward order book.
The training boosted his skills and gave him the confidence to take to social media for the first time to promote his expertise – a move that has led to more than 25 new jobs since the summer and a flood of additional enquiries for his services.
The Boost Your Business digital marketing training Dave White received was delivered by County Durham-based CDC Enterprise Agency as part of the regional skills and enterprise programme, Go>Grow.
The programme has been launched in partnership with 30 local training providers, and comes on the back of £15m of funding secured by Gateshead College from the European Social Fund through the Education and Skills Funding Agency (ESFA).
The course has been a boost for Dave, who wanted to improve his marketing and sales skills as part of a new business push to secure regular work in a competitive sector.
Dave, who runs his business on Tyneside, and is currently booked up until the end of the year, says that there has been a fourfold increase in the number of jobs secured since posting advice on Facebook to help people stay safe this winter.
In fact, he's so busy that he expects to take on his first apprentice in 2018 to help him meet demand, while in the long run he will be concentrating on managing the business full time and developing new services.
The training has also improved the way Dave White now deals with people and has been a big boost to his confidence when quoting for work.
He said: "The course was excellent and the skills I gained have proved priceless in winning work, dealing with customers and securing repeat business.
"I gained so much from the experience and the tutors were brilliant – they were inspirational with many great ideas. I felt like I was going in as a kitten but came out roaring like a lion."
Joe Murray, Chairman at CDC Enterprise Agency, which is helping to provide the courses, said: "Dave's a great example of how people can benefit from these courses, which offer interesting, relevant and effective learning and development opportunities.
"They offer the chance for small business owners to gain useful new skills, which will help them to thrive, or the opportunity for employers to upskill their workforce in these competitive times through improved, focused training."
Go>Grow has the backing of the North East Local Enterprise Partnership and North East England Chamber of Commerce.
Experts will work to develop training that meets the individual needs of businesses, or offer those who wouldn't ordinarily undertake training programmes, the opportunity to access bespoke packages specific to their needs. A tailor-made programme is then developed and delivered at any of the Go>Grow training provider sites, or within the premises of the individual businesses.