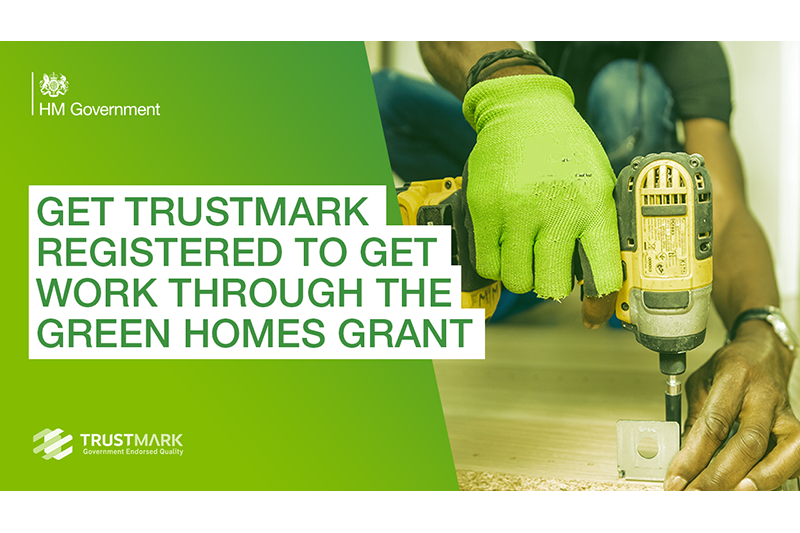 The government is urging tradespeople to sign up for TrustMark accreditation to carry out home energy saving improvements under the new Green Homes Grant scheme.
Later this month, under the Green Homes Grant scheme, homeowners in England can apply for vouchers worth up to two thirds of the cost of hiring tradespeople to upgrade the energy efficiency of their home – the maximum contribution will be £5,000, or for those on lower incomes a 100% grant up to £10,000 will be available for certain work.
The vouchers, which will be issued from the end of September, will help pay for energy efficiency improvements, that will help cut energy bills and potentially save families hundreds of pounds year.
A statement from BEIS has said that consumers will be able to use a TrustMark Registered Business from their local area (including those approved via the Microgeneration Certification Scheme) to carry out energy efficient measures in and around their homes.
They will be able to use the vouchers to install one or more of the following: solid wall, underfloor, cavity wall or roof insulation; air source or ground source heat pump; solar thermal. In addition, households can use their voucher for further energy saving measures. These include one or more of the following: double or triple glazing/secondary glazing, when replacing single glazing; upgrading to energy efficient doors; hot water tank/appliance tank thermostats/heating controls.
The grant scheme is available until the end of March 2021.
Simon Ayers, CEO of TrustMark, welcomed the opportunity to work with the industry sectors to support the delivery of quality work and ensure that consumers receive the high standard of work they should expect. The home improvements carried out under the scheme will have greater levels of technical standards and commented that the Green Homes Grant scheme is the "kickstart" the construction and energy sector need to help recover from the coronavirus pandemic and help the UK reach the target of being carbon neutral by 2050. Simon said: "As we undertake this journey, the construction and energy industries will play a vital role in the delivery of low carbon homes, providing healthier and more comfortable living conditions.
"The Green Homes Grant scheme is an important step in creating new jobs, protecting the existing and delivering low carbon housing. As an industry, we need to collaborate to support the initiative, ensure businesses are supported and consumers can rely on the tradespeople that carry out work in and around their homes making them fit for the future. The vouchers will help prime the market and allow eligible property owners to make energy efficiency improvements and save on their energy bills."
The Green Homes Grant scheme, which Chancellor Rishi Sunak launched in his Summer Statement, will see £2bn invested in improving the energy efficiency of the nation's homes.