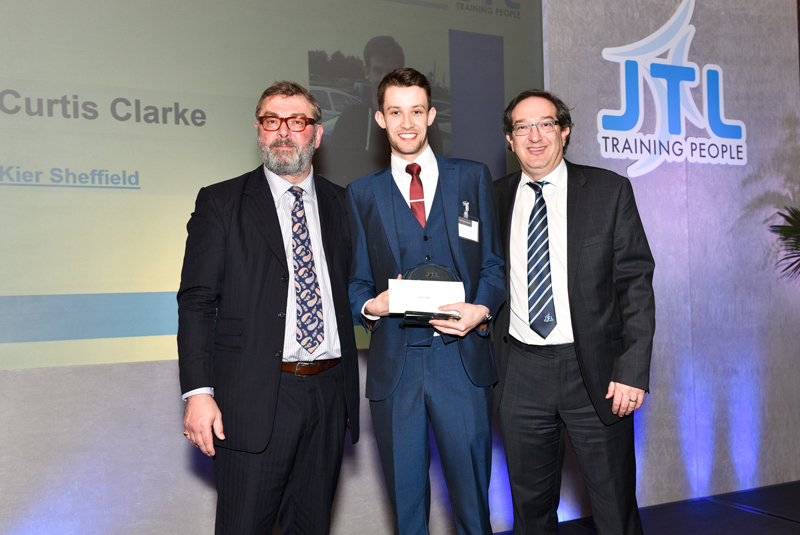 JTL recently gathered together the best apprentices of 2015 and celebrated their successes at the organisation's annual awards ceremony. Held at Drapers' Hall in the City of London, the event hosted finalists which were all chosen from JTL's current cohort of 6,000 learners.
Curtis Clarke from Scunthorpe won the 2015 crown of 'MES Apprentice of the Year' and 19 year-old Birmingham-based Ryan Reeman was nominated 'Full Time MES Student of the Year' (MES is Mechanical engineering services which includes plumbing and HVAC apprenticeships). Both were presented with their awards by JTL Chief Executive, Jon Graham.
"Today represents the culmination of a year of hard work across the country," says Jon. "As always, it was a difficult process to pick out one exceptional candidate from what is, without doubt, an outstanding group. We look after thousands of learners each year, so the competition is very tough.
"Our awards highlight the importance of good quality apprenticeships and training, and they also recognise the brilliant young talent that exists in the building services engineering sector. My conversations with some of the finalists have been nothing short of inspirational – this is a gifted group of young people and their successes are a reminder of the vital role that work-based learning programmes can play in the lives of young people. With the future of the industry in hands of this calibre, I feel very optimistic!
"Both Curtis and Ryan were commended for being model students and we wish them every future success."
Now aged 23, Curtis completed his A Levels and then opted for a practical job over a university education, feeling it would suit his skill set and interests better. He successfully applied for a plumbing apprenticeship with Kier and has recently completed his four-year training. Next in his sights are additional practical qualifications plus the desire to consolidate his skills. Long term, Curtis would like to progress to a management role with Kier.
"It didn't sink in at first that I'd won because it was very much unexpected," says Curtis. "I'm the first apprentice within Kier to win the award so it feels like a big achievement and it's great to have the additional pat on the back! Big thanks must go to Steve Myers, my Training Officer at JTL, who nominated me for the award and for the endless support I've received from him throughout the last four years."
To qualify for the 'Apprentice of the Year' title, candidates were recommended by their JTL training officers thanks to their exceptional classroom work, outstanding practical abilities and excellent employer feedback. The potential winners attended formal interviews and practical assessments conducted by JTL's senior management team both for the regional events and prior to the national final.
JTL's awards ceremony also saw plumbing student, Ryan Reeman, win the prize for 'Full-Time MES Student of the Year'. Ryan is based at JTL's National Centre of Excellence in Birmingham, where he's studying the theoretical side of the apprenticeship programme. The course is an ideal stepping stone towards further vocational learning, such as an apprenticeship. Ryan was described as 'attentive and hardworking', even volunteering to help with plumbing work at the Centre in order to gain practical experience.
Ryan left school at 16 with strong practical skills and an interest in the building services sector. Having completed his JTL Traineeship, Ryan is now applying for a full time apprenticeship position with Willmott Dixon.
"I really enjoyed my Traineeship," says Ryan. "It was fulfilling and it matched all my expectations. I learnt new skills, made new friends and I'm finally realising my potential. I felt so honoured when I heard I'd won the national JTL award but also proud that they'd chosen me to represent JTL as the best MES student of the year."
Finalists for a range of awards, their employers, families and JTL Training Officers, all enjoyed a celebratory lunch in the magnificent Drapers' Hall.
Industry and government approved training supplier, JTL delivers apprenticeships in partnership with colleges and workplaces across six regions in the UK. Around 33,000 young people have completed apprenticeships with the not-for-profit organisation to date and almost one in two of all electricians in England and Wales now achieve their qualifications through JTL.
The organisation is a not-for-profit training provider and reinvests its resources for the benefit of the industry's apprentices and employers.