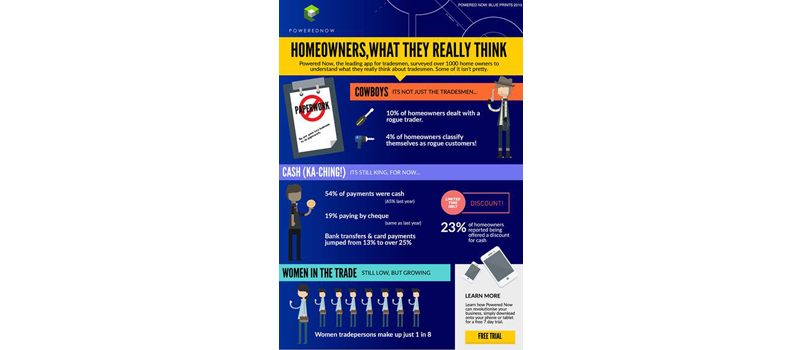 Powered Now's survey of more than 1,000 homeowners has provided insight into the relationship between tradesmen and their customers.
The research is the second annual survey by Powered Now (the admin app for tradesmen) and reveals a treasure trove of information on how residential customers find and select tradesmen.
Highlights include:
4% of homeowners classify themselves as rogue customers, having missed appointments, paid late or deliberately avoided paying part of their bill.
18% of homeowners now use search engines to find trade companies. Traditional print-based media including Yellow Pages, Thomson and local papers combined are used by just 11%.
13% of homeowners have had work done in the last year by a female tradesperson.
There has been a big rise in using payment cards and bank transfers to pay for work.
The top irritation for two-thirds of homeowners is missed appointments by tradesmen.
Rogue traders and rogue customers
Although the mainstream press tends to focus on rogue traders (and 11% of those surveyed had encountered someone they regarded as a rogue trader in the previous 12 months) the complaint that Powered Now has heard from the trade is about rogue customers, which receives little coverage.
Benjamin Dyer, CEO of Powered Now, explains: "I had been intrigued by something that gas engineer, John McLouglin had said to me, 'We've all heard of rogue traders, but really there should be a rogue customer's gallery too. These people can cause terrible problems.' So this year we asked homeowners both about their experiences with rogue traders, but also whether they themselves were rogue customers."
An amazing 1 in 25 (4%) owned up to being rogue customers! That included missing appointments, paying late and deliberately withholding some of the money that was rightfully due.
Choosing a tradesman or company
50% of homeowners see reputation as very important in deciding who to give work to. The next two factors, each seen as very important by around a quarter of the survey, were availability to start and a keen price. 15% saw the professional look of company employees as very important and a further 43% saw this as somewhat important. These findings largely matched the findings of the 2014 survey.
Causes for complaint
The biggest complaints from homeowners were regarding general organisation and reliability, with 83% of those surveyed experiencing tradesmen failing to turn up as agreed (31% were frustrated by this "to a large extent"). However, for homeowners who do manage to get a tradesman to visit, a whopping 75% of those surveyed were unhappy about how difficult it was to get a quote or estimate afterwards.
Even having obtained a price, a similar number (76%) complained that the final bill was more than the amount quoted. This may be down to poor setting of expectations, where changes and difficulties which couldn't reasonably be foreseen led to higher charges. However, customers didn't seem to be aware of this possibility. 
Payment
The Powered Now survey confirms that cash continues to be the payment method of choice, used for 54% of jobs – but that is a large drop from 65% last year – as bank transfer and card payments have risen from 13% to over 25% of the total. 23% reported that they had been offered a discount for cash.
In fact, 59% (barely changed from 58% last year) would prefer to pay by card if they could. Like last year, over half said they would pay faster if this was an option.
Poor paperwork
It seems that tradesmen are missing out on work due to poor paperwork: 71% of those surveyed said that a professional-looking quotation makes it more likely they will choose a particular company – an identical result to last year. This is in addition to the need to get quotes out quickly.
These results support Powered Now's mission to help tradesmen cope with their paperwork. Powered Now provides a mobile app for iPads, iPhones and Android devices that helps to manage customers, send quotations and invoices, take payment and more.
Benjamin Dyer adds: "Our annual homeowner survey substantiates what our users have been telling us: as tradesmen, they need solutions that can help with their administration and paperwork. No-one enjoys paperwork but it is a necessary evil. There was a lot of consistency between this and last year's survey, which provides even more credence, particularly as this year we interviewed over 1,000 homeowners.
"At Powered Now we are aiming to provide the tools that make it easy to meet the needs and expectations of customers as well as tax and other statutory requirements, all with minimal effort. The results of the survey confirm our view that tradesmen who use technology intelligently have the opportunity to not only save time, but make more money too."
Five takeaway points to help tradesmen grow their businesses
Make doing great work your priority. The vast majority of leads for business still come from recommendation and final selection depends on reputation.
Forget traditional marketing, and go online instead.
If at all possible, make sure you can be found on Google.
Never miss an appointment or turn up late, it destroys trust and loses business.
Produce professional looking quotations, and provide them quickly.