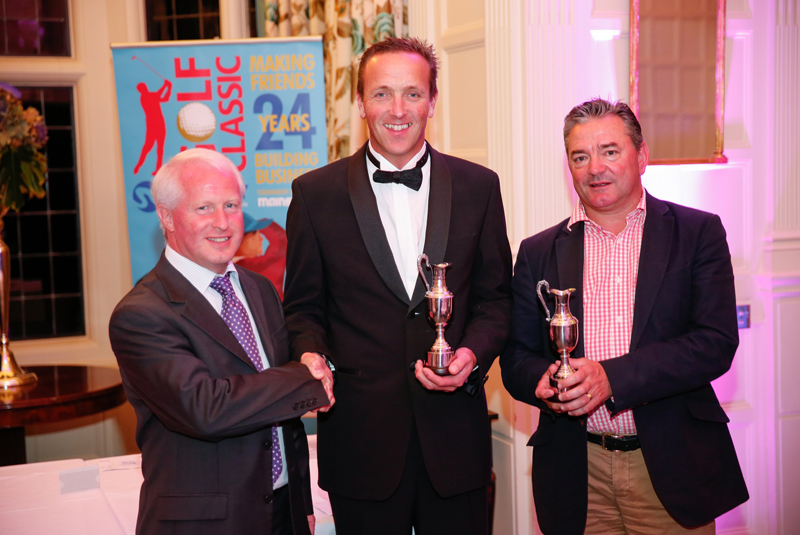 This year's final took place on Friday 30th September at the beautiful Hanbury Manor Hotel set in 200 acres of stunning Hertfordshire parkland. The final was the culmination of six rounds of knock-out golf played across the country. The lucky finalists and sponsors enjoyed a day of competitive golf on the hotel's acclaimed England Championship Course, followed by a gala dinner, prize presentation and luxury stay.
Congratulations goes to competition winners Paul Cornish (Civil Engineer at Dave Lucey Ltd) and partner Drew Wrintmore (MD at Nicholas James Developments). Marley Plumbing & Drainage Managing Director, Stan James, presented the winners with their claret jug trophies and £200 gift vouchers.
Marley's Commercial Manager, Kevin Williams, spoke about the event: "We are proud to have had a long association with The Golf Classic. Its profile, heritage and social value to the UK construction community has endured and flourished through three decades. It's a great way to meet, compete and have fun whilst sharing knowledge and staying in touch with the marketplace".
Beaten by only two points, runners-up Duncan Clark (Classical Gas) and Toby Clark (Gibson Clark Builders) also received trophies and vouchers. In addition there were prizes for the longest drive, Paul Martin (Harpenden Construction), and nearest to the pin, Ian Marsh (Thurston Group).
A closely fought sponsors competition also took place on the day. Clive Coxon's Marley team with guests Subhash Chauhan from Building Services Design at Capita, Gary Prescot and John Woodward from JDP (experts in drainage and waste management) went on to win the competition with an incredible 92 points. The runners-up from the Hamerville publishing team were not far behind with 86 points.
The Golf Classic media partners share a vital role in publicising the tournament to those who work in the UK construction industry, from architects, builders and plumbers, to electricians and engineers. Long-time supporter, Dave Jones of Hamerville, commented: "The UK specialist media recognises the value of a national tournament for its collective readership. Our publications help word reach trade professionals across the nation. The tournament enables like-minded golfers to play in their regions, swap experiences and develop networks. We are excited to support them in celebrating the landmark 25th annual event in 2017."
2017 will mark the 25th anniversary of the Golf Classic's inauguration as the national golfing tournament for the UK construction industry. The event is an important part of the sporting business calendar for the many golfers who enter each year to enjoy playing golf locally, meeting new people and often forging valuable relationships. The six round knock-out competition starts in February 2017.
The Golf Classic is open to those working within the UK construction industry (except Northern Ireland). Entry is just £42 per team. The event organises each home or away match through six rounds of golf, taking care of the admin, leaving players to share green fees and enjoy playing golf in their region.
To take part and be in with a chance of attending the 2017 Grand Final, simply visit: www.thegolfclassic.co.uk