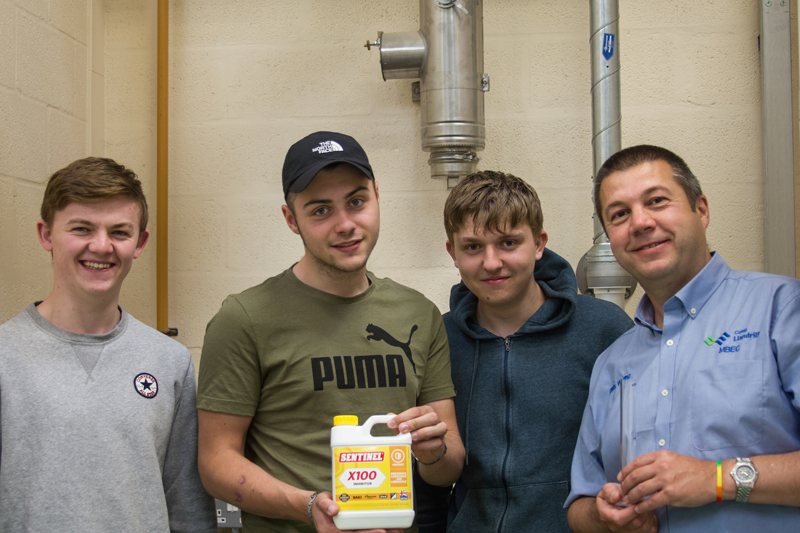 Plumbing and heating apprentices studying towards NVQs are benefiting from special online training and in-class training packs prepared by Sentinel. Since launching, the company's training resources have been snapped up by higher education institutions wanting to equip apprentices with skills in best practice water treatment. The work-based apprentices are finding that the materials – which are often used as revision aids for central heating exams – fit in well with other coursework during their day-release visits to college.
One such example is Grŵp Llandrillo Menai, an umbrella organisation that oversees the operation of three member colleges, Coleg Llandrillo, Coleg Menai and Coleg Meirion-Dwyfor. Employing 2,000 staff and delivering courses to around 27,000 students across Anglesey, Conwy, Denbighshire and Gwynedd, the Grŵp aims to support the economy in North Wales by arming students with competitive skills and qualifications.
This ethos certainly applies to the college's plumbing and heating apprentices, who spend one day a week on campus looking to attain both NVQ Level II and III as part of a forward-thinking four-year training scheme.
"Our course covers many aspects of the plumbing and heating industry, including correct water treatment for both new and existing heating systems. Water treatment is vital for boiler and system protection and efficiency, but many installers don't have the adequate knowledge in this area. For example, a lot of installers assume problems only exist in older systems, they don't realise that new systems also need to be treated," explained Chris Walling, Tutor and Work-Based Assessor of the Apprenticeship Department.
Research shows that approximately 87% of boiler call-outs are to systems without correct water treatment. The state of system water impacts heating system performance, boiler warranties and customer satisfaction, however, current national course material doesn't cover water treatment in any detail.
It is this deficit of information that drove Sentinel to develop a range of tools and services for education institutions, which could be used to help improve the understanding of best practice water treatment in the classroom.