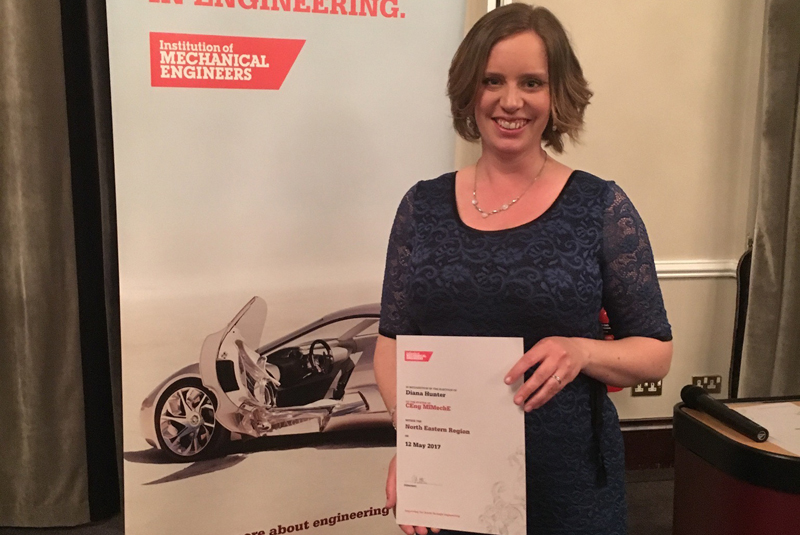 Salamander Pumps is backing an event to encourage more women into engineering careers, as part of the International Women in Engineering Day celebrations in June.
Organised by the Institution of Mechanical Engineers Young Members panel, the Inspiring Careers event takes place at Newcastle University and is aimed at GCSE and sixth form students, college and university students, and young professionals.
The audience will hear four women speakers, including Salamander's Design Engineer Diana Hunter, talk about their career choices and explain more about the variety of roles and opportunities for female engineers.
Salamander manufactures a wide range of shower and whole house pumps designed to improve water pressure. As part of the research and development team Diana is involved in all aspects of product design, including designing new pumps and working with innovative technologies new to the pump market, as part of Salamander's focus on quality and continuous improvement.
"This will be an inspiring event for anyone either already working in, or considering a career in engineering," said Diana, who recently gained Chartered Engineer status with the support of her employer, and holds a BEng (Hons) in Design Engineering.
"We face a national skills shortage exacerbated by the lack of women entering the profession, and the Institution of Mechanical Engineers is working hard to change perceptions around what a career in engineering looks like.
"This event is about inspiring young women and helping them to make informed career choices, and it is great to see the Institution's young members themselves driving the agenda."
According to the UK's Sector Skills Council for Science, Engineering and Manufacturing Technologies (SEMTA) just 12 per cent of those working in engineering are female, with only three per cent of apprenticeships started by females. The UK is predicted to need 800,000 new science, engineering and technology professionals by 2020, and Brexit is likely to compound the problem.
"I am looking forward to dispelling some of the myths around engineering careers, such as it being a dirty job and not female-friendly," added Diana.
"It is such a broad field, and ideally suited to anyone with an aptitude for science and maths subjects and a love of problem solving. There is an enormous diversity in terms of the roles on offer and young engineers could find themselves designing and constructing bridges, working on F1 cars or in the aerospace industry, or solving environmental problems.
"Engineering is vital to our economy and we are missing out on a huge pool of potential talent if we neglect half of the population.
"Here at Salamander we are keen to recruit the best talent, regardless of gender, that gives us real commercial advantage and maintains our reputation for manufacturing some of the quietest and most reliable pumps on the market.
"I find women often approach a problem differently to men, and it is about embracing those differences to create a stronger approach to problem solving.
"There is a lot of work to do to encourage more young women into the industry and as employers we are happy to join schools, parents and industry bodies in playing our part to educate and support young women into careers that are creative and useful, and offer great opportunities for progression."
The International Women in Engineering Day Inspiring Careers event takes place at 6.30pm on Thursday 22nd June 2017 at Nixon Hall, Northumbria University, Ellison Road, Newcastle upon Tyne NE1 8ST.
For more details, click here.