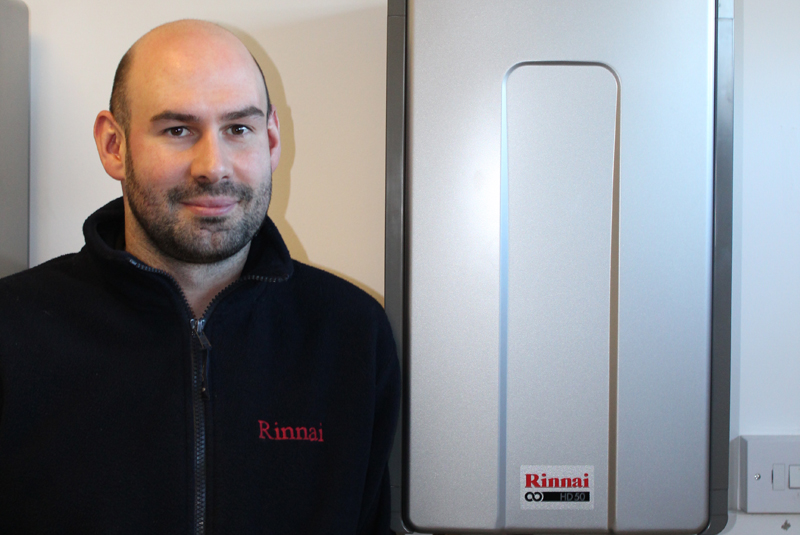 More dates have been added to Rinnai UK's 2016 training programme to cater for the increasing number of engineers turning on to the energy saving benefits of gas fired continuous flow water heaters.
Rinnai has seen an increase in interest for its range of ErP labelled, A-rated continuous flow water heaters. The company supplies models from the smallest domestic unit to super-size industrial appliances and, since the introduction of energy labelling, demand for training on the Rinnai Infinity range has been on the up.
The demand has led to a new tranche of tailor-made, flexible courses that allow engineers the opportunity to explore at first hand the practical and energy saving benefits of continuous flow gas fired water heaters and to familiarise themselves with the technology.
Rinnai training specialist Ian Jenkins says: "Since ErP, enquires for Rinnai Infinity units have increased exponentially as the transparency of energy labelling allows specifiers and end users to compare products and make an informed choice. As a result of this surge in interest, so far this year we have trained 66% more engineers. These have included our bespoke courses designed to fit in with the modern time demands for professionals. We have also seen a large increase in CPD modules all over the UK.
"The most popular course modules are Understanding ACOP L8 and hot water system design and System design incorporating continuous flow and renewables."
The hands-on events are aimed primarily at engineers and facilities managers, and cover both traditional and new technologies for commercial water heating and highlight the considerable energy and monetary savings that can be achieved by installation of a continuous flow hot water system.
Courses can be arranged to suit individual requirements either at Rinnai's Cheshire HQ in the dedicated training facility or, if preferred, Rinnai will take the module to the customer's workplace or other venue.
The additional course dates are 27 September and 27 October and 24 November: 'Service and fault diagnostics (Water heaters)'. These courses are free to engineers and available at Rinnai's Runcorn HQ.
For more information contact Ian Jenkins on +44 (0)1928 531 870 or email [email protected]