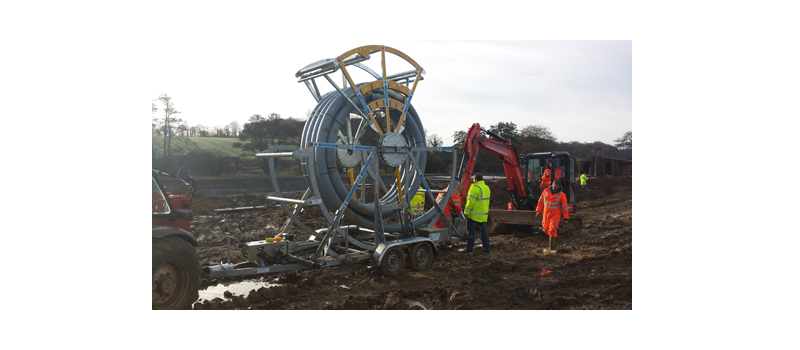 The newly-opened Soho Farmhouse 125 acre estate and members club in Great Tew, Oxfordshire features more than 7km of REHAU's RAUTHERMEX pre-insulated polymer pipework, in what REHAU believes is one of the largest polymer district heating networks in the UK.
The high performance pipe in 16 different diameters from 25 to 160mm is being used to distribute heating and hot water supplies to 45 buildings around the exclusive estate including 32 luxury cabins for guests, a seven bedroom farm house, staff accommodation building and mix of restaurants, bars, pool rooms, barns and gyms.
The district heating scheme, which was nominated for the Community Heating Project of the Year award at the Heating & Renewables Awards 2015, was designed and installed by biomass heating specialists Treco. There are four Guntamatic PRO 249kW biomass pellet boilers in place, supplemented by a 3MW LPG fired boiler system which is acting as duty assist and back up.
There are also two 10,000 litre bespoke thermal stores and a low loss header to help ensure optimum operational efficiency for the boilers.
Treco chose REHAU's RAUTHERMEX for the project because of the proven low heat losses from the pipework, which features external thermal insulation with PU foam which has a lambda value of just 0.0216W/mK. Initial commissioning data has already indicated minimal temperature losses between the plant room and the user ends.
They also liked the fact that the flexibility and durability of RAUTHERMEX makes it easy to install in trenches with long runs like those at Soho Farmhouse and the REHAU Everloc compression sleeve jointing system makes fast and secure connections.
REHAU's Business Team Manager for Renewable Energy products, Steve Richmond, commented on the installation: "This is one of the largest polymer-only projects we've so far been involved with in the UK and it showcases many of the benefits of RAUTHERMEX on a large site with long trenches, a range of different pipe sizes and lots of insulated joints where there are spurs to the individual cabins.
Soho Farmhouse is sited in an area of outstanding natural beauty and is designed to promote sustainable domestic tourism. It is the latest development by the Soho House group which owns a network of houses, hotels and restaurants throughout the UK and North America.