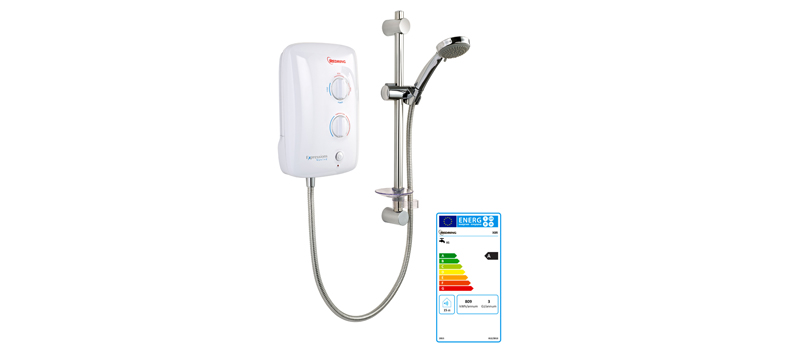 Redring, a specialist in instantaneous hot water solutions, has received the highest A class energy efficiency rating for its popular range of electric showers and instant water heating units ahead of the new Energy-related Products Directive (ErP) legislation, which comes into force on 26th September.
The ErP Directive demands that water heaters must meet minimum energy performance criteria and carry an energy label, similar to those already used on domestic appliances. The energy label must feature within all product displays and alongside any energy-related information within advertising, brochures, user manuals and online materials.
All Redring and Galaxy electric showers have achieved the A rating, including the new best-in-class Redring Expressions Revive, offering unrivalled flexibility of installation, and Dash – Redring's new entry-level electric shower.
Also A rated are all Powerstream instantaneous water heaters, all instant hand wash units and the compact new instant electric hot water taps, providing hot water in any wash basin location.
The ErP Directive was introduced to help European Union member states achieve a 20% reduction in energy use by 2020, encouraging people to choose more energy efficient items across more than 40 product groups, including TVs, lightbulbs and fridges.
The A ratings demonstrate Redring's commitment to leading the field in energy efficiency, as well as the environmental benefits of electric hot water solutions, as Steve Holton, Strategic Marketing Director for Redring Xpelair Group, explains:
"Redring takes its environmental responsibilities extremely seriously. The ErP Directive rightly focuses on the best energy performing products and our considerable preparation for this legislation has delivered the results we were aiming for.
"Our A-rating achievements demonstrate once again just how energy efficient electric instantaneous hot water solutions can be, by heating only the required amount of water at the point of use, and the breadth of A class product ratings reaffirms Redring's position as one of the most dynamic and forward-thinking water heating brands.
"We are working together with our distributors and installers to make the move to energy rated products as seamless as possible. All Redring electric water heating products shipped after 26th September will have updated user manuals and will feature the relevant energy labels. We will also be supplying compliant energy labels for existing display items in time for September."
For more information on the full range of energy-rated Redring electric water heating products, please visit www.redring.co.uk.