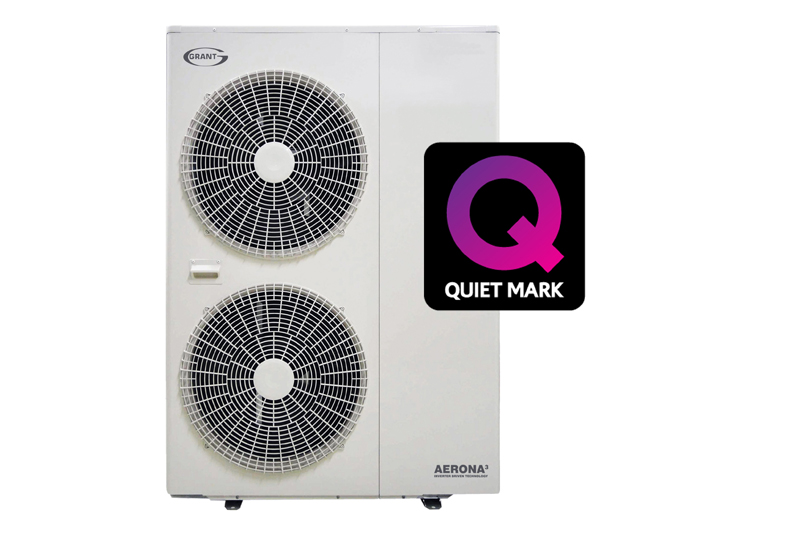 Grant UK is shouting about how quiet its air source heat pumps are.
Two of the latest models, the Aerona³ R32 13 and 17kW heat pumps, have achieved the Quiet Mark – an accolade which recognises some of the quietest, high performing products in the market.
Quiet Mark is the international award programme validating and awarding low-noise, high performance technologies which help to deliver solutions which can overcome noise pollution throughout the world. Associated with the UK Noise Abatement Society charitable foundation, Quiet Mark encourages companies across the globe to prioritise noise reduction within the design of their products. The Quiet Mark accolade is only awarded to products which meet the programme's criteria and which are identified as being amongst the quietest models within their given category.
After undergoing the relevant testing and assessment, Grant's Aerona³ R32 13 and 17kW air source heat pumps have been awarded the Quiet Mark. Grant's inverter driven air source heat pumps have always been quiet in operation and this latest product accolade serves to recognise the technological advances which can be found in the new R32 heat pumps.
Launched earlier this year, the Aerona³ R32 heat pump range incorporates the more environmentally-friendly R32 refrigerant. This refrigerant is cleaner and more sustainable because it has a significantly lower Global Warming Potential compared to other refrigerants used in heat pumps, such as R410A. Furthermore, R32 is a single-component refrigerant and has no temperature glide – which enables the heat pump system to recharge and recycle with greater ease, thus improving the unit's efficiency.
"The launch of the Aerona³ R32 air source heat pump range is an exciting addition to Grant's product portfolio," comments Paul Wakefield, Grant UK's Managing Director. "The awarding of the Quiet Mark to the 13kW and 17kW models is something we are very proud of as it reflects how quiet these heat pumps are, something which is important to householders. Quiet in operation and compact in size, these Aerona³ R32 heat pumps have minimal impact on their surrounds being our greenest, most efficient and quietest heat pumps yet."