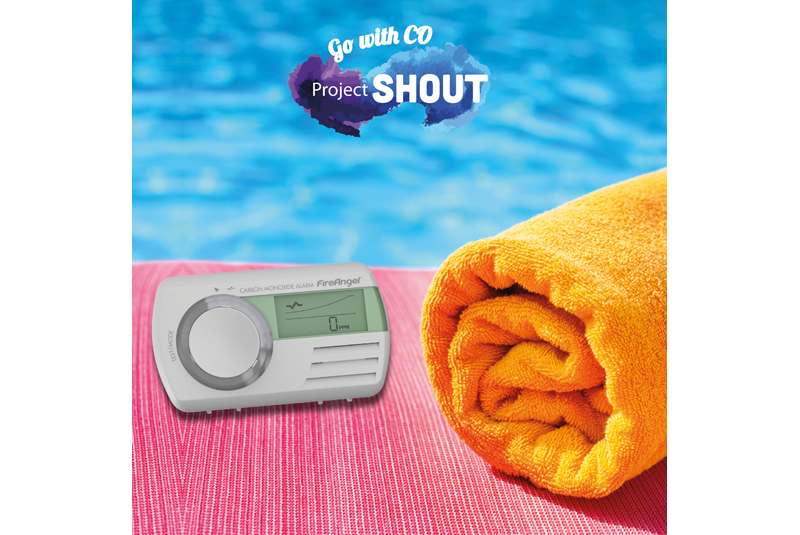 Project SHOUT has announced its summer carbon monoxide (CO) awareness campaign, 'Go with CO', has returned for a third year.
The campaign will work with gas professionals to raise awareness of the potential dangers of CO when travelling on holiday, either at home or abroad.
While many people will remember to pack the necessary essentials needed for a trip away, one safety essential that is said to be commonly overlooked, or forgotten, is a CO alarm.
Many individuals may be unaware that CO is a deadly gas that kills around 50 people each year, and over 2,000 individuals are also attending A&E every year with suspected carbon monoxide poisoning.
Known as the 'silent killer' it is particularly dangerous as you cannot see, taste or smell it, causing it to be invisible to the human senses. This makes it particularly dangerous for families travelling to holiday destinations where a CO alarm may not already be installed.
Awareness of CO poisoning around the summer season is reported to have risen in recent years. However, according to CORGI Home Plan only 13% of people have had their camping and caravanning appliances serviced, with almost half of people (45%) admitting to cooking in their tent or under a canvas.
Whether families are holidaying abroad or in the UK, Project SHOUT is urging gas and electrical professionals to back its latest campaign by encouraging customers to pack a CO alarm in their suitcase this summer if they're heading on holiday.
FireAngel's CO-9X seven year portable CO alarm is said to be ideal for packing in travel bags as it is no bigger than a bar of soap, alerting individuals to CO emissions from boilers, cookers, BBQs and other fuel-burning appliances.
Designed to comply with all British standards, the alarm will accurately measure low levels of CO and is audible to alert the presence of CO, even while sleeping. Additionally, the internal power pack and sealed batteries mean the alarm will detect CO for seven years.
Project SHOUT's Campaign Manager, Zoe Hadley, commented: "Packing to go away on holiday can be a stressful time, especially when you have children, and with so much on your mind one thing that people may not think about is taking a carbon monoxide alarm away.
"As installers know, the nature of carbon monoxide means that only an alarm will alert you to its presence, so we want all professionals to help us raise further awareness by advising customers to pop one into their luggage to give families the peace of mind that they are protected from CO on their holiday, whether that's on a boat, in a lodge or abroad."
For more information on the dangers of CO, visit www.projectshout.com.