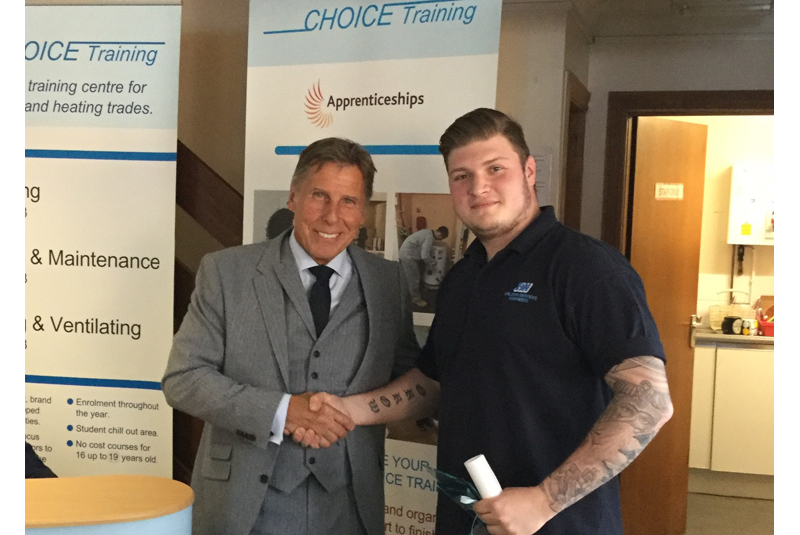 An apprentice from J S Wright has received the Heating & Ventilation Apprentice of the Year award for 2018, from Choice Training.
Jack Orrow was presented with a trophy and certificate by Choice Managing Director, Robert Maw, in a ceremony held at Choice's training centre in Dagenham.
The 22-year old, who lives in Dagenham, passed the Level 3 National Vocational Qualification in Heating & Ventilation with Choice and was one of 75 trainees on its H&V courses.
It is the second year in a row that a J S Wright apprentice has been honoured by Choice Training after Davis Peck was named as its Plumbing Apprentice of the Year for 2017.
Robert Tye, Director of Choice Training, said: "I cannot say how highly Jack deserves his award. He has improved each year as a learner at Choice Training, his practical work has been exceptional, and his exams have been completed with ease."
He added: "Jack is polite, friendly and a pleasure to teach – and a real credit to his company who have shown from winning an award last year that they have the know-how to produce a good tradesperson."
Jack is a member of the J S Wright Academy which provides a training forum for all apprentices working out of the company's Birmingham, Bristol and London offices.
He is currently helping to install the mechanical services for the new 441-home Keybridge development in London, which incorporates the UK's tallest brick apartment block.