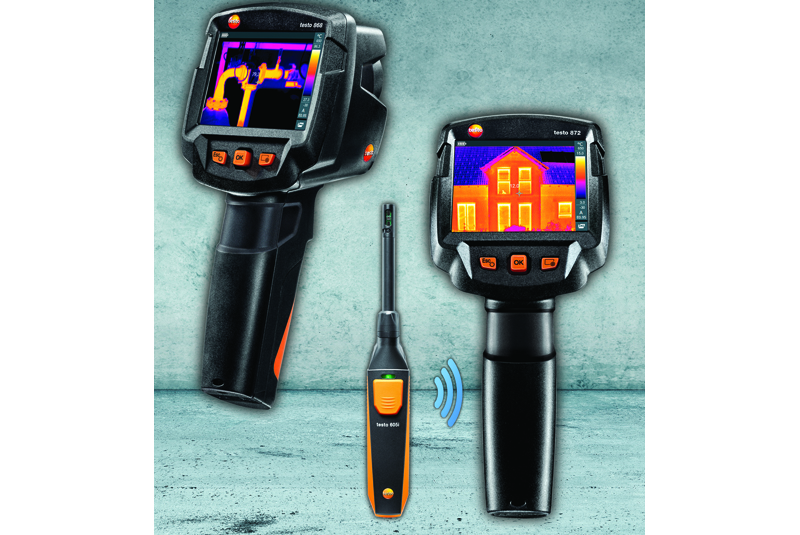 Testo has announced a new value-add product bundle and a special price promotion on two of its most popular thermal imaging cameras.
New testo 872 Building Inspection Kit
The testo 872 thermal imaging camera is now supplied with a testo 605i Smart Probe thermohygrometer. The testo 605i can be connected to the testo 872 via Bluetooth and together can be used to accurately detect and visualise mould risk. The testo 872 offers image quality of 320×240 pixels (increasing to 640×480 pixels with Testo SuperResolution) and can detect temperature differences from just 0.06°C. With a price of £1,990, this kit is designed to offer excellent value for money.
Special offer: testo 868 thermal imaging camera
The testo 868 is described as the ideal diagnostic instrument for heating engineers.  As well as infrared resolution of 160×120 pixels (increasing to 320×240 pixels with Testo SuperResolution) and a temperature measuring range from -30 to +650°C, the instrument is packed with practical features. Bluetooth connection to the free testo Thermography App makes writing and sending of reports a breeze. Automatic hot/cold spot detection and the integrated digital camera make measurement and analysis quick and easy. At the special offer price of £999, the testo 868 is said to be a great choice for heating engineers.
For more information, visit www.testo.co.uk