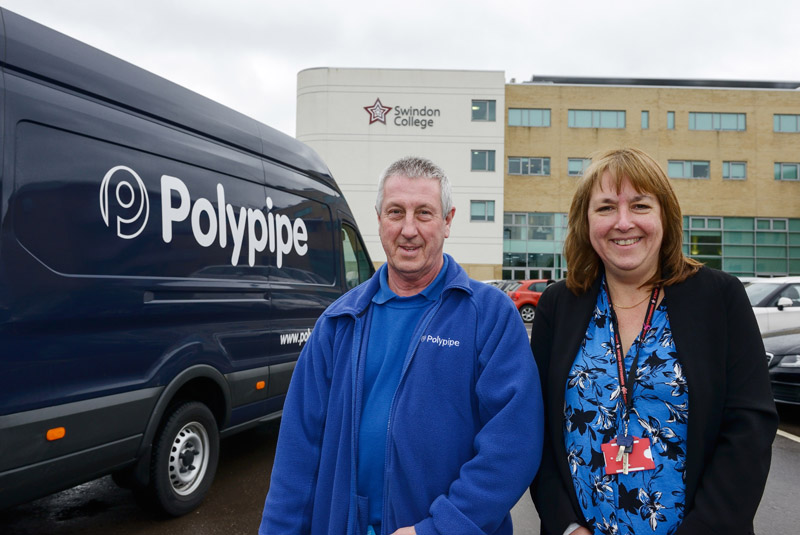 Following a devastating fire in a plumbing workshop at Swindon College, Polypipe has donated a range of plastic pipes, fittings and waste traps to enable the Plumbing Department to get back to teaching.
Swindon College has been training student plumbers for over 50 years, but a fire on the Swindon College Gemini Campus in January left the established department and its vital equipment in ruin. Polypipe was able to provide the college with a new range of products from their popular plastic pipes and fittings lines, including the Polyplumb and Polyfit ranges. This donation will give students hands-on apparatus experience they need to get back on course with their studies.
Gill Mendham, Head of Construction at Swindon College, says "We are grateful to the team at Polypipe for their generous donation. Their products will give our students the opportunity to get back to work and practicing their craft on real industry tools. The fire has caused disruption, but with the help of Polypipe the plumbing department has been able to return to full capacity, which is very important for our students."
Rachel Smith, Marketing & Communications Manager at Polypipe says: "The fire at Swindon College came as such a shock and we are glad to hear that nobody was seriously hurt. At Polypipe, we do all we can to support the next generation of professionals. By giving students a good basis of experience, they can build the foundations of their career that will shape the industry moving forward."
Polypipe has a strong track record in donating products to charity and institutions. Recently, the Burton Street Foundation, a community organisation specialising in supporting adults and children with learning difficulties in Sheffield, received a package of products for use in learning activities.
For more information on Polypipe, visit www.polypipe.com/building-products