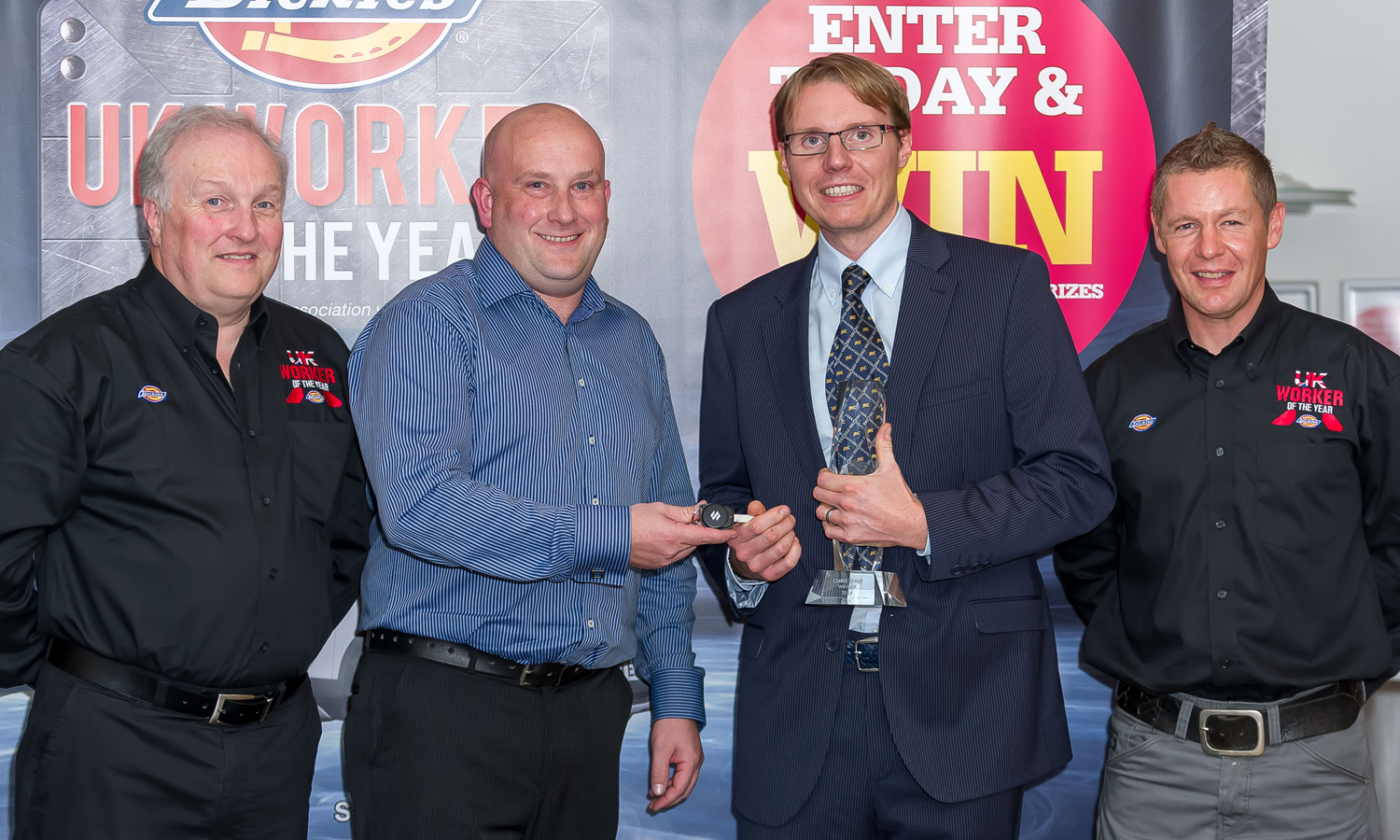 Chris Teale, 34, a plumbing and heating engineer from Barnet, has been crowned UK Worker of the Year 2014 at the competition finale at Brands Hatch.
Chris, who wowed the five judges at the UK Worker of the Year judging day in September, saw off the competition of six other finalists to win the prestigious competition, which is run by workwear company Dickies to reward excellence in the British workforce.
Chris was given the choice between a Suzuki S-Cross car, V-Strom 1000 motorcycle or an ATV Quad bike. Once announced as the winner, Chris took to the stage at the Thistle hotel, where the presentation was being made, and decided to pick the car as his preferred prize.
Chris stated: "It's an absolute delight to have won UK Worker of the Year. I still don't think it's really sunk in. I cannot thank Dickies and Suzuki enough for running such a fantastic competition. This is a real shock for me. I always thought that making the final itself was a dream come true. Winning the competition has left me speechless."
As well as picking up the keys to his brand new Suzuki S-Cross, Chris took part in the first ever 'Dickies £100,000 Challenge'. The winner of the 2014 competition had the chance to win £100K cash prize by predicting the outcome of Sunday's first British Superbike race. After nervously watching on, Chris just missed out on the life-changing sum of money, though his top six prediction made up the top 7 racers as the crossed the finishing line.
Chris, who is on call 24 hours a day, prides himself on high quality work that is both reliable and affordable. The engineer has spent the last two years growing his heating and plumbing business, working long hours and weekends to ensure his business is successful. He named the company HITGAS, which stands for honesty, integrity and trust. Chris, who holds an ISO 9001 Trustmark and a Masters Plumbing certificate, now has over 1,000 clients due to the dedication and hard work he has shown his profession. Chris further impressed the judges on judging day by presenting them with a portfolio demonstrating some of his hard work.
Maurice Morton, sales and marketing director at Dickies, said: "Congratulations to all our entrants this year. All seven finalists were brilliant and it was one of the toughest choices we've had to make. Chris is certainly a deserved winner and really impressed us throughout. We are delighted to have found our fifth UK Worker of the Year and now the planning will start for the 2015 competition."
Second place and £2,000 in holiday vouchers went to Louise Jones, a baker from Manchester, with fire fighter Andrew Fox-Hewitt leaving with £1,000 in holiday vouchers after coming third. Dickies ensured that no one was to leave empty-handed, with the other finalists all receiving Dickies and Suzuki goodie bags.