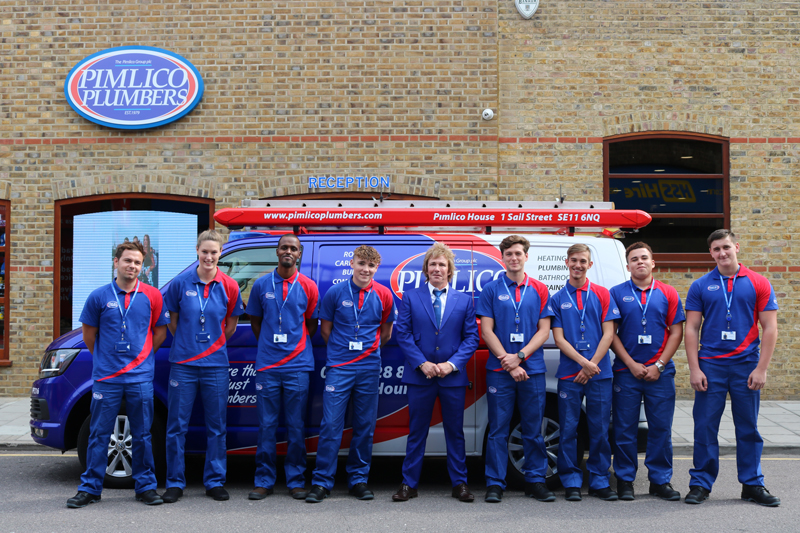 Pimlico Plumbers has announced plans to open a dedicated training academy with the aim of employing hundreds of apprentices.
The announcement is said to coincide with the induction of eight new plumbing and heating trainees, who will take the total number of apprentices in the business to 83.
With the launch of the Pimlico Apprenticeship Training Centre, which will be based at the company's headquarters in Lambeth, South London, it is hoped it will enable the company to provide all the theory and practical skills required to qualify as a trade apprentice.
Working with training and education providers, as well as directly-employed experienced trainers, the centre will recruit and train young people, providing the opportunity to work alongside Pimlico's team of tradespeople in disciplines such as plumbing and heating, electrics, carpentry and construction.
The centre will complement Pimlico's non-trade apprenticeship programmes, which run in areas such as accounts, customer services and marketing.
Pimlico's latest group of apprentices will spend four-days-a-week training on the job with the company's plumbing and heating engineers with one day at one of the company's approved colleges.
Founder and CEO, Charlie Mullins, said: "Opening a Pimlico Apprenticeship Training Centre is a tall-order, but it has been my dream for years, and worth every penny it has cost to build a home-grown talent pool of eager young people and welcome them directly into the business at the very start of their careers.
"We are inundated with applications every year and we are steadily increasing the number of apprentices we have on board to achieve our targets. Creating the centre will grow our capacity.
"We started 2018 with a huge recruitment drive, and haven't stopped throughout the year. With 75 on our books, our aim is to continue to increase this amount till every engineer is paired with an apprentice, and at the moment we have more than 350 engineers."
Charlie added: "Apprentices are a huge part of Pimlico, and not only because they make perfect business sense. The thing is, my apprenticeship saved my life, opening my world up to plenty of opportunities, and a lifetime of success. Perhaps because I have first-hand experience on an apprenticeship, I truly understand the value of the scheme for young people, but as a businessman, I also have a real appreciation of the importance an apprentice can be to businesses and the economy as a whole."