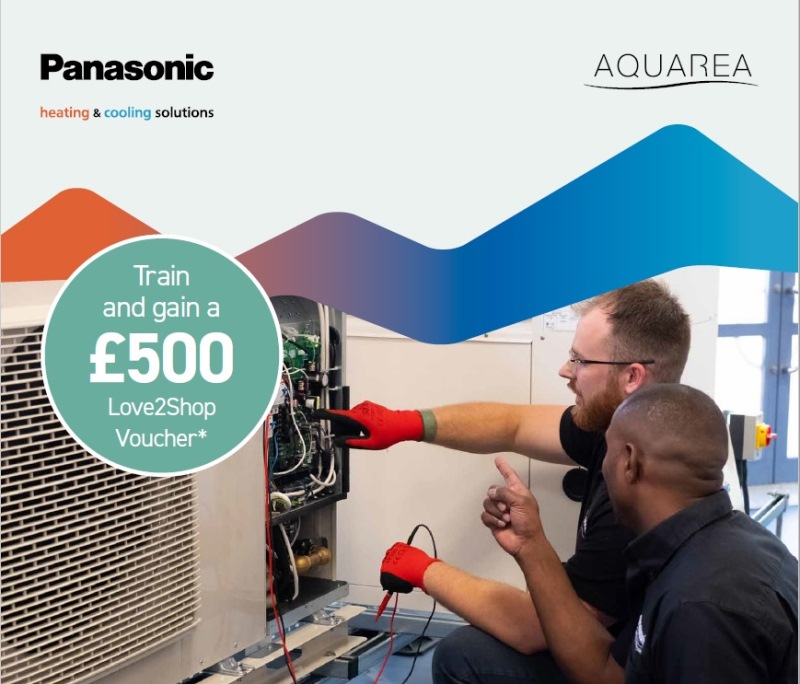 Panasonic has announced 'Train to Gain with Panasonic' a reward scheme designed to assist gas boiler engineers and installers in gaining the skills, and get qualified, to install and maintain air source heat pumps.  
The company will give installers £500 in rewards (limited to one per company) on completion of the Level 3 accredited heat pump training following their first Panasonic installation. (Terms & Conditions apply)  
Installers completing the relevant training courses, installing and commissioning an Aquarea system (plus DHW tank) and connected to the Panasonic Smart Cloud with Wiser integration, will be eligible for the scheme, which will provide the installation company with a £500 reward in the form of Love2ShopVouchers.   
The qualifying training courses are available from several training centres across the country offering the Level 3 Award in the Installation and Maintenance of Heat Pump Systems (Non-refrigerant Circuits). Claims can be submitted once qualified, and following their first install of one Aquarea heat pump system with a domestic hot water tank and connected to the Panasonic Smart Cloud with Wiser integration.  
Jose Alves, UK Country Manager for Panasonic Heating & Cooling Solutions commented: "Interest in heat pumps has never been higher – and there has to be an expansion of the skilled installer base for the net zero and decarbonisation of home heating to be met. There has never been a better time to get trained, with the availability of government training grants plus this additional reward from Panasonic. The sooner installers, fitters and gas boiler engineers get trained, the quicker they can take advantage of these market opportunities." 
The new Panasonic scheme runs from 1st April 2023 to 31st December 2023. The company also offers further free product training and support – and will provide free commissioning support, which can be especially useful for an installer's first project.