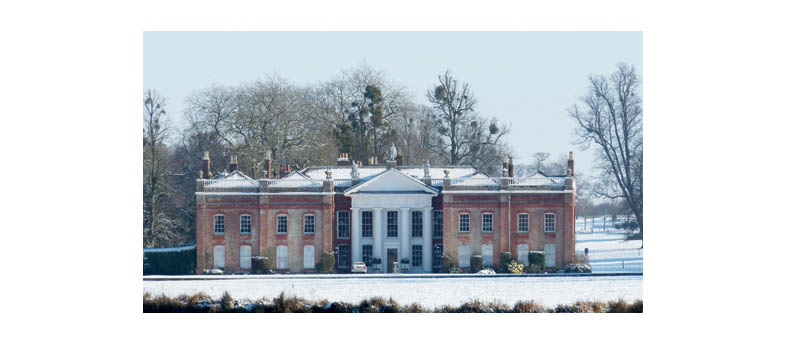 When the owners of Avington Park, Sarah and Charlie Bullen, had to replace their three oil and one gas (LPG) boilers, they chose a water source heat pump (WSHP) renewable energy solution from Ecovision Renewables.
Ecovision is a renewable energy specialist operating nationally from its base on the Highgrove Estate in Gloucestershire and its WSHP provides heat and hot water for the Bullens and the tenants of four unique apartments located within the main house.
"As well as being our family home, Avington Park is a spectacular venue for parties, weddings and corporate functions and is also popular as a film location," said Sarah Bullen. "We took over the running of the Estate in the late 90s and a couple of years ago it was evident that our heating and hot water system needed replacing."
The Bullens initially looked at replacing the old oil and gas boilers with new versions, but this was not going to be an easy or inexpensive solution as new tanks and pipes were also required.
"We then decided that we should look at more modern, innovative energy technologies. The financial outlay was going to be large and so it was important that we took the opportunity to choose a system that was going to be the right one, not just for now, but for the next 50 years!" Sarah added.
The Bullens then looked closely at renewable energy. After discussions around a biomass solution they decided that was not for Avington Park.
"I then read an article in the Telegraph around how the Hon Simon Howard of Castle Howard – the home of Brideshead Revisited – had halved his fuel bill by going green and harnessing the energy of the water in his lake, with a WSHP from Ecovision, to provide heating and hot water," explained Sarah.
"We had been led to believe that it was not feasible to use this type of renewable energy in an historic house such as ours, but it had worked at Castle Howard so I wanted to know how! It was clear from the article that Simon Howard completely believed in his renewable energy WSHP system and that he was a great advocate of the technology," Sarah continued.
"I immediately rang Simon Howard who was extremely helpful and answered all of my questions. He told me that Ecovision had worked closely with him on the installation of his WSHP and that he highly recommended its team," said Sarah.
The Bullens then called Ecovision and made an appointment with a consultant from its Country House and Estates Division to come and meet them at Avington Park.
"It was very clear that Ecovision had the necessary expertise in delivering successful renewable energy solutions for historic houses and we signed on the dotted line pretty quickly. We had complete confidence in how Ecovision dealt with our enquiry and walked us through exactly how we could use the heat generated by the river to power our own WSHP," said Sarah.
To extract heat from a tributary of the River Itchen to power Avington Park's WSHP, Ecovision placed 24 x 200 metre loops – almost three miles – which sink to the bottom of the river. The loops are filled with polypropylene glycol which is a non-toxin, so eliminating any potential risk to the inhabitants of the River itself.
A 120 metre trench was dug from the plant room housing the heat pump, located at the back of Avington Park, and pipes laid to connect the heat pump to the loops in the lake. The Dimplex 130kW WSHP is connected to Avington Park's existing radiator systems.
"Contrary to the view that with historic houses it is necessary to look closely at the heat which will be emitted from existing radiators, Ecovision was confident that using its WSHP would not mean that we had to replace all or any of our radiators. They have been proved to be absolutely right and the house has never been warmer!" confirmed Sarah.
The Bullens signed the order for its WSHP at the beginning of April 2011 and the installation was completed that summer. The total cost was in the region of £125,000 including an upgrade to the three-phase electricity supply and ground works.
"This was a large financial commitment and the tariff available from the Government's Renewable Heat Incentive (RHI) was definitely a factor in our initial decision to look at renewable energy," said Sarah.
The RHI Government initiative pays a tariff, over 20 years, for every kilowatt hour (kWh) of energy generated by renewable energy.
"Our annual RHI payment will be around £6,500 a year and combined with the significant saving we are making on oil costs, and taking into account the electricity costs of running the WSHP, our renewable energy solution will pay for itself in six and half years," added Sarah.
Apart from its annual service there are no ongoing maintenance charges associated with the WSHP, and one of the more simple things that has made a real difference to the Bullens is that they no longer have the horrid oil smell that comes with an oil fired boiler.
"We really are thrilled to bits with our renewable energy solution. The house has a constant temperature and we, and our tenants, are now warm all of the time. Not only are we saving money, we are operating Avington Park very much with future generations in mind as the reduction in our carbon footprint has been calculated at 44.6 tonnes per annum," added Sarah.
Ecovision is holding an open day at Avington Park on Wednesday 22 April to highlight the success of the WSHP renewable energy solution.