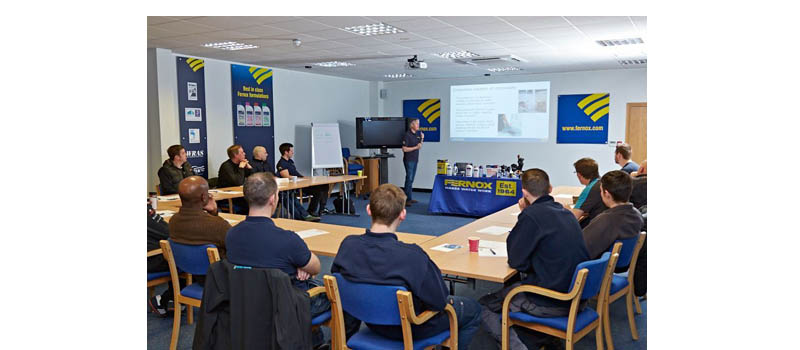 Fernox has released its new training dates and venues for 2015. The course offers the chance for Fernox to share over 50 years of expertise with installers via practical sessions held around the UK, which are also complemented by a series of e-learning modules.
A Pioneer in water treatment, Fernox has grown to become the leading provider of chemicals, filters and equipment. As the authoritative voice in the plumbing and heating industry, Fernox has long championed the importance of on-going training and education, investing to make access to training as easy as possible.
One-day training courses, which cover the benefits and regulatory requirements of water treatment for all heating systems, are now available at locations throughout the UK. Delegates will gain plenty of hands-on experience as they powerflush a system, install a filtration device, test the quality of the water by using on-site water test kits, as well as learning the various ways to dose a system with inhibitors such as Fernox Protector F1.
Also available are the series of e-learning modules that allow installers to further their knowledge and training through five modules: The Fundamentals of Water Treatment – Part One and Two, Testing Water Quality, Powerflushing and Water Treatment in Renewable Technologies. Each module comprises a useful overview on its subject area, with visual and audio instructions. Pre and post assessments are also included to ensure a thorough understanding is gained after each course.
"Providing face-to-face and online training for installers is paramount," said Francine Wickham, Global Marketing Director for Fernox. "It is important to remember that the industry is constantly developing; regulations are modified, technology advances, installation methods and safety procedures change. Therefore it is vital for us to highlight these changes and educate customers to ensure they are not only compliant with regulations, but are following best practice procedures which can only enhance their professional reputation."
For more information on Fernox training dates, visit: www.fernox.com/training