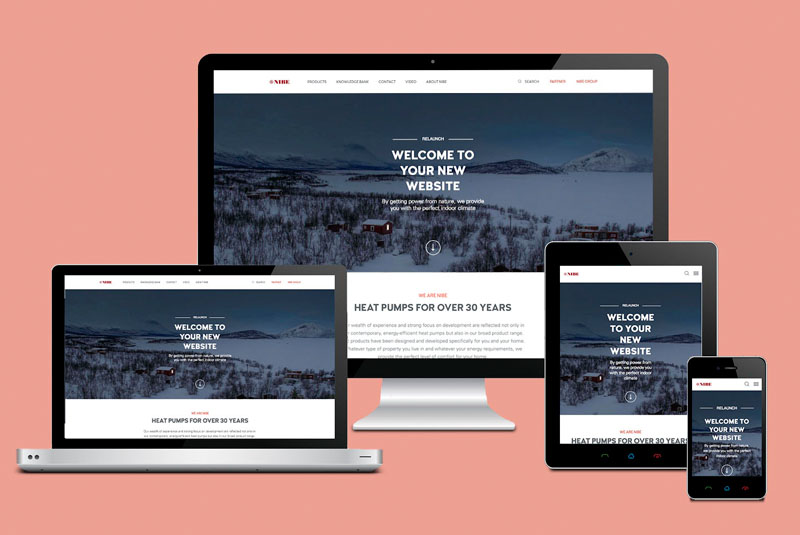 NIBE Energy Systems has revamped its website to enhance the consumer experience and provide a support tool for its network of VIP Installers, giving them a platform to direct customers for information.
Robin Adderley, Sales Director NIBE Energy Systems, said: "The consumer is becoming more curious about renewable energy and how heat pumps can replace typical gas boilers or provide cost effective alternatives for off grid properties. As a result our installers are finding that demand, and a need for more information, is becoming more prevalent and our consumer focused website will be a valuable tool in supporting them.
"It will guide prospective customers through the heat pump journey from the benefits of renewable heat sources, how our products work and how NIBE works as a global company and concludes with post purchase topics such as 'how to' videos on maintaining your heat pump."
The enhanced website will provide information about the range of NIBE products available including Ground Source and Air Source Heat Pumps. It will also explain how they work and what consumers can expect, provide saving calculations as well as access to information regarding the Renewable Heat Incentive Programme.
Some of the most noteworthy additions are the Interactive Product Selector which will enable those making an initial enquiry to decipher the right heat pump for their needs; video case studies which bring the products and the processes to life; whilst each element continues to reflect the NIBE ethos 'It's in our nature', which champions the power of nature and how it can be harnessed to provide heating and hot water for homes and businesses.
Robin continued: "Our installers are extremely knowledgeable about our products and our new website will satisfy the demand for information from their prospective customers who are perhaps considering choosing a renewable energy source, in particular heat pumps. The advice on our website will be easy to digest, unlocking the potential that heat pumps can deliver to revolutionise the way we generate our heating and hot water."
For more information, visit www.nibe.eu/en-gb.