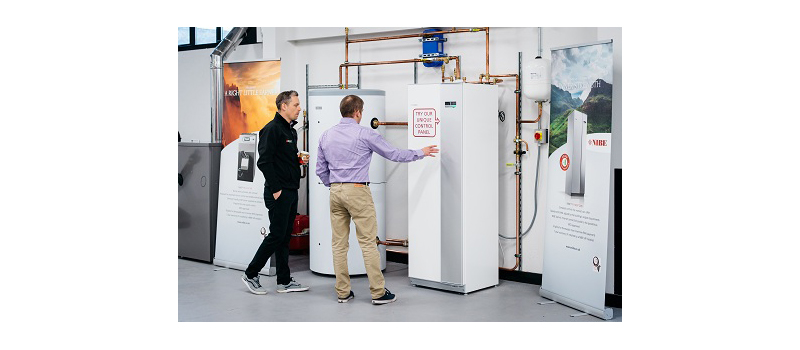 As part of its commitment to building a trusted and highly skilled installer network, renewable heating manufacturer NIBE has unveiled a brand new training facility in Essex.
Delivered in partnership with Prospects College of Advanced Technology (PROCAT), training at the college's Basildon campus will span NIBE's full range – including ground source, air source and exhaust air heat pumps, as well as biomass boilers and solar thermal systems.
Training at the new centre will provide plumbing and heating professionals with the information and hands-on experience they need to carry out NIBE installations. Both foundation-level courses and more in-depth intermediate product training are available, covering design, installation, commissioning and servicing. Sessions will be split evenly between theory and practical elements, and the centre will be fully equipped with a cross section of NIBE renewable heating technologies, as well as control systems and hot water storage solutions.
Phil Hurley, managing director at NIBE, says: "With the RHI now in full swing, an increasing number of homes and businesses across the UK are looking to reap the benefits of switching to renewable heat – so the commercial opportunity for trained installers has never been greater. NIBE's new Basildon training centre is part of our ongoing commitment to installers nationwide. As demand grows, we're ensuring they are ready to respond, upholding the very highest standards of quality, expertise, performance and safety at every stage of every installation."
NIBE product training is now available at three locations across the UK: PROCAT (Basildon), South Lanarkshire College (East Kilbride) and at NIBE's flagship training centre in Chesterfield. Prices start from £98 per person. For more information or to book a training course, call 0845 095 1200 (and select option 4) or email [email protected]